CNN's Sanjay Gupta: Will Expanding Health Insurance Make Americans Less Healthy?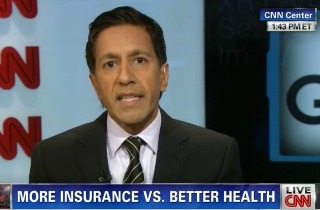 CNN medical reporter Sanjay Gupta appeared on the news network on Monday to offer a challenging and controversial opinion: does increasing access to health insurance make Americans less healthy? He answers, with a few caveats, yes.
When it comes to increasing the nation's health, Gupta began by deemphasizing how critical it was for the Affordable Care Act insurance exchange website to function.

"If you look at some off the goals of health reform overall, not just health insurance reform but health reform, it was certainly about increasing access so more people had health care insurance," Gupta asserted, "but more so, it was about trying to create a healthier America."
RELATED: David Plouffe Predicts Obama's Approval Rating Will Recover: 'People Trust This President'
In a column on the subject, Gupta cited evidence found in a study which focused on two groups of people: Medicaid recipients and those not covered by Medicaid. "It found that the people who were now newly insured did go to the doctor more often, they did get more care," he continued. "But here was the interesting thing: they were less likely to actually be any healthier."
"The point is that health insurance alone isn't going to make us healthier," Gupta declared.
"In are some cases, insurance might actually be counterproductive," CNN anchor Wolf Blitzer submitted.
Gupta said that another study of male Medicare recipients found that they went to the doctor more, but were 40 percent less likely to exercise, 16 percent more like to smoke cigarettes, and 32 percent more likely to drink more than one alcoholic beverage per week.
"They received insurance and for some reason, started behaving badly with regard to some of the aspects of their health," Gupta observed.
Watch the report below via CNN:
[Photo via screen grab ]
— —
> >Follow Noah Rothman (@NoahCRothman) on Twitter
Have a tip we should know? tips@mediaite.com