CNN's Schizophrenia: Dayside Get Wacky While Prime Time Just Gets. . . Better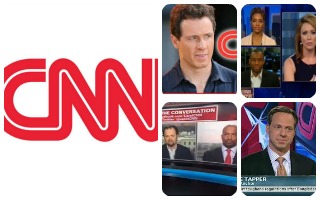 What gives, CNN? The ascension of the network's new President Jeff Zucker has truly marked a dividing line between the CNN of yesteryear and the cable news network of today. CNN's prime time, replete with a variety of respected anchors and excellent new hires – many of whom developed a reputation for excellence at broadcast news outlets like ABC News. CNN's dayside, however, sure seems to be grasping for controversy. In the space of just 48 hours, the Most Trusted Name in News has achieved notoriety for giving airtime to guests who appear to be reaching for the most offensive position they can muster on a variety of issues.

RELATED: CNN Panelists: Dorner's 'Exciting' Rampage 'Like Watching Django' Exact Revenge For Police Brutality
Yesterday alone, CNN's dayside programming raised red flags among culture watchers with their coverage of the conclusion of the rampage wrought by Los Angeles shooter Chris Dorner.
Before noon, former White House advisor Van Jones, no stranger to controversy, said on the network that Dorner may not be the best of the nation's "spokespersons for the cause of racial justice," but his murder spree was "the kind of thing we can learn from."
A few hours later, another panel segment tackling essentially the same subject pushed the envelope of appropriateness further still. Columbia University Professor Marc Lamont Hill called Dorner a "superhero to many people." "It's almost like watching Django Unchained in real life," Hill said. "It's kind of exciting." His fellow panel guest and radio host, MC Lyte, agreed and said that Dorner had awoken a sleeping giant in the nation's subculture. "It's an uproar, because people are being brutalized," Lyte said. "We're seeing kids die at the hands of police brutality." She said it was good to hear that Dorner had a small army of sympathizers on social media networks.
Is this great television? I guess, but hardly responsible analysis.
As the day progressed, the network inspired the laughter of millions when they ran a chyron beneath the video Sen. Marco Rubio's (R-FL) now infamous water drinking incident during his response to the president's State of the Union Address. The chyron asked "Career-Ender?"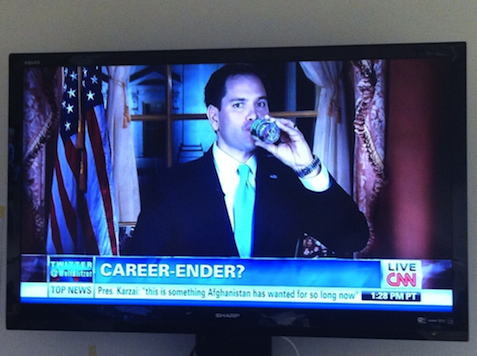 "So, can a drink of water make or break a political career?" asked anchor Wolf Blitzer heading into break. The network later explained to POLITICO that they were just joking and that no one seriously thought that Rubio's dry mouth could spell the end of his political career.
That "joking" might explain the absurdity of its dayside panel segments.
Flash-forward to Thursday, when during a panel debate over the appropriateness of the Pentagon's decision to award medals to drone pilots, CNN contributor and liberal SiriusXM Radio host Pete Dominick strove to achieve, again, the most offensive position he possibly could – going so far as to gratuitously mock drone pilots as merely videogame players.
"I got a lot of friends who play a lot of videogames, you might as well start pinning medals on their chests, because that's what this is," Dominick said. "They really are sitting in a room playing a video game. They are, often times, taking lives and sometimes those are women and children who are innocent."
"This is a very controversial practice. Some could argue it's state-sponsored terrorism," Dominick continued. "These guys, when they get done playing video games, they go home – by the way – to their families and have dinner."
All this amounts to what sure seems to be an effort to create controversy and increase the visibility of the network's dayside –just the the opposite of what is happening in prime time.
CNN's hire of Jake Tapper, arguably the most respected journalist in Washington, to host a program on the network bodes well for CNN's credibility – and the cable news business as a whole. On Tuesday evening, CNN's dual anchor coverage of the Chris Dorner saga – with Anderson Cooper and former 20/20 correspondent Chris Cuomo – was informative, measured, up-to-the-minute. Their coverage of the Dorner siege leading into the State of the Union address was spectacular and CNN was well rewarded in the ratings.
So what is behind CNN's schizophrenia? Who knows, but in an era where prime time cable news tends to welcome the performers, while dayside remains more staid and newsy, this appears to be a breaking of the mold — unless, of course, this daytime is a sign of what could be still to come in prime once CNN really shakes it up.
> >Follow Noah Rothman (@NoahCRothman) on Twitter
Have a tip we should know? tips@mediaite.com