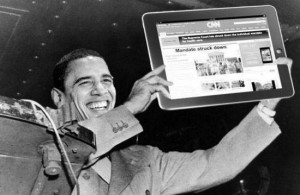 To err is human, to forgive divine. CNN made a rather glaring err yesterday when they spent seven minutes breaking the news that the Supreme Court struck down the individual mandate as unconstitutional. Which, of course, didn't happen, but who has time to carefully read the wording in a Supreme Court decision before reporting on it? It's going to be a while before our collective divinity will grant CNN our ultimate forgiveness, but this whole incident brings up one of the biggest problems of cable news: the need for speed.
RELATED: CNN Launches Internal Review After SCOTUS Ruling Mistake
There are a few unfortunate aspects about what happened on CNN yesterday. First of all, given all the recent bad publicity CNN's gotten over its plummeting ratings and column after column diagnosing the network's chronic suckishness of late (I don't care if it's not a real word, it's accurate), this was not the best time to have something go so wrong. Secondly, breaking news is CNN's bread and butter. The network is at its best covering primary results or natural disasters or the death of a terrorist.
The one thing CNN still has going for it is breaking news. And yesterday, they screwed it up.
But in the grand scheme of things, the misreporting was not the fault of a sole network. It's the fault of a mentality within the cable news business that first is best. That mindset may have made sense back in the day when the number of venues for getting breaking news was more limited. But now we have the internet. When news organizations blow up your Twitter feed announcing some breaking news, do you remember who came first? No. Because to paraphrase Shakespeare, "thine trending topic is full of sound and fury, signifying nothing."
CNN is not the only news organization at fault here. Fox News also got the short end of the stick in the landmark decision of First v. Right. There is no question this was a Dewey Defeats Truman moment, but it reminds us that this sort of thing is more likely to happen in the age of the internet.
No matter how much you may delete or whitewash away errors in your news report, people can still access copies of it. The Wayback Machine is an unbelievably useful tool to see how web pages looked before they were altered. Between that and Google caches, no one is safe. It is not worth it anymore to rush to be the first one breaking the news. When you rush, you gloss over things. There's important context missed. Forgive me for waxing nostalgic about an era I'm not old enough to properly wax nostalgic about, but what happened to the days of contextual reporting of the news?
I get that most people are impatient. But that's why they prefer watching cable news to reading articles anyway. Our attention span is, quite frankly, not that impressive. People tend to zone out after reading a few paragraphs of a news story, so they don't process all the information adequately. You might even be glossing over this paragraph right now, so half of you may not even notice the giraffe in this sentence. At least the cable news format is more suited to the practical person who doesn't have time for depth or context. They just want the facts, plain and simple.
But they're not so impatient that they have to know the news IMMEDIATELY, as soon as the producer in the field skims the first page of a Supreme Court decision. It's okay to take a breather and verify, verify, verify. Has the media learned nothing in the past decade? You would think after the media's Monty Python-like coverage of the Bush-Gore showdown in Florida twelve years ago, they would learn that maybe restraint is a good thing.
RELATED: Jon Stewart Ridicules CNN, Fox News For Getting Supreme Court Decision Wrong
Washington Post columnist Alexandra Petri accurately summed up the ridiculously obsessive nature of breaking the news in a piece earlier today:
There is no point, as Erik Wemple observes, in trying to come up with a scoop on news that is being released to the entire public at the same time. ("Breaking: The Vice President is clearing his throat! Breaking: Now Biden is using the word 'and.' Breaking: It looks like a consonant is about to come down the pike!") At best, you will be right 18 seconds before anyone else. At worst, you will be CNN and FOX right now.
And speaking of CNN and Fox News, here's just a final observation I'm going to throw out there: hindsight only goes so far when you work in the news business. People make mistakes. Reporters make typos. To err is human, to forgive divine. It's easy to forgive when the err is something tiny. But a mea culpa over something this important just doesn't cut it.
Not that the media actually cares. Remember when I said we have short attention spans? In time, we'll forget this ever happened and the media's credibility won't change a bit. Ah, the joys of the digital age.
—–
Follow Josh Feldman on Twitter: @feldmaniac
Have a tip we should know? tips@mediaite.com
Josh Feldman - Senior Editor