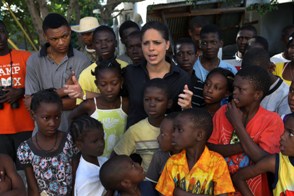 CNN correspondent Soledad O'Brien returned from Haiti on Friday after several days of reporting about and following the story of a group of orphans from Haiti to Miami. And it wasn't just on TV – O'Brien gave a full play-by-play on her Twitter feed in real time.
We spoke to O'Brien Friday afternoon for our "Back From Haiti" series, as she returned to New York – and to her family.
Mediaite: You recently were covering the journey of a group of orphans from Haiti to Miami. Tell me about what that story was like to cover, and how it came about?
O'Brien: When we met the first group the thing that surprised us was a truck that had 25 babies, newborns, lying in it, wiggling and we're like, 'Oh my gosh, those are babies.' It is really very shocking. We followed their journey in the van, driving down the streets in Port-au-Prince. It had to be 90-something degrees , and I'm sitting on a seat with four toddlers. There was one who started throwing up, one was very sick. It was just a miserable trip, just awful…You talk to some of these parents, and it's very touch-and-go. You don't know what's going to happen, but we're certainly very hopeful.
"It's not just that a bad thing happened here. Bad things happened, but they are not able to recover and won't recover quickly because of hundreds of years of bad things happening to Haiti."
Mediaite: I know you just got back today, but looking back on the assignment, what do you take away most from the story in Haiti?
O'Brien: I think there are no easy answers. On one hand people are coming to adopt children, to rescue them and bring them out of Haiti, and that's amazing. On the other hand, it's a very desperate situation, not just for children but for everyone. To me it's like small picture and big picture. The big picture is, 'Well what's the plan, what's going to be the move going forward?' It has to be fixing the infrastructure. The whole trip to Haiti has been a sense of, 'Where's the line, at what point do you stop digging for people, at what point do you say this is more important than that?' There are no easy answers. It's very, very complicated. The country of Haiti has historically always been like that and it's just a very sad situation.
>>>NEXT PAGE: What O'Brien says is the "hardest" to convey in Haiti coverage.
Have a tip we should know? [email protected]