CNN's Soledad O'Brien Refuses To Say 'Screw Obama' Facebook Quote On The Air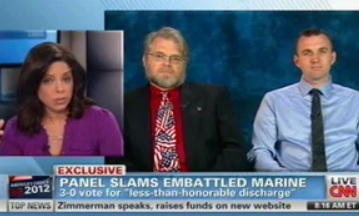 On Tuesday morning's Starting Point, host Soledad O'Brien scored an exclusive interview with Marine Sergeant Gary Stein, who faces less-than-honorable discharge over comments he made, on Facebook, about President Obama. One of those comments, though, proved too much for O'Brien to tolerate. While she displayed the quote "screw Obama" onscreen, O'Brien refused to say it out loud. "I won't read the whole thing," she said, and read the quote "'As an active duty Marine, I say' that word 'Obama.'"
While Sgt. Stein acknowledged that his "words were somewhat tasteless," he pointed out, in his own defense, that the comments were made on what he called a "closed forum," and that "they were up for five minutes," and "only three people saw them."
I'm no lawyer, but it seems like pointing out how quickly he deleted the comments would tend to indicate consciousness of guilt on Sgt. Stein's part. He also goes on to complain about the person who publicized his comments. "The only reason that anybody has a picture of those posts," Stein said, "or knows what those posts are because a Marine Master Sergeant decided he was going to take a screen capture and send it out to God knows who."
A panel of three Marine administrators recommended, on Thursday, that Stein be discharged "other-than-honorably," which would mean a demotion and forfeiture of his military benefits. Stein's attorneys are seeking a federal restraining order to stop the discharge.
As a general rule, I argue in favor of more speech, not less, even when the First Amendment isn't technically involved, but it's hard to see what leg Sgt. Stein has to stand on. The rest of that "screw Obama" quote is as clear as it gets: "As an active duty Marine, I say screw Obama and I will not follow any orders from him."
O'Brien's refusal to say "screw Obama" comes on the heels of several incidences of CNN ignoring traditional broadcast language standards. On CNN's air Saturday night, as anchor Don Lemon and panelist Goldie Taylor let the epithet loose a few times, and Lemon argued that, in the context of a news report, "I don't care what color the reporter is, I think someone should say 'that person called him a nigger,' rather than 'the n-word,' because it sanitizes it."
The next day, reporter Susan Candiotti read, uncensored, a Thursday posting from Tulsa shooting suspect Jacob England's Facebook account, which said "Today is two years that my dad has been gone, shot by a fucking nigger."
A few weeks ago, CNN also aired uncensored audio of a 911 tape that featured Trayvon Martin shooter George Zimmerman grumbling the word "fucking" along with a hotly debated noun.
Of course, none of those occurred during an 8 am weekday broadcast, but O'Brien's reticence to verbalize Stein's quote wasn't likely related to language standards, anyway, since she did display the unredacted quote onscreen. It was a pretty obvious expression of her disgust with Sgt. Stein's comment. While I certainly understand the impulse, and respect it, I think it might have been more effective to confront Sgt. Stein with his actual words.
There may be some who will seek to divine a double standard between quoting the n-word, or f-ing coons/clothes/cold/punks, directly, but these are all judgment calls, and while I think that they should all be quoted directly, I similarly understand, and respect, those who object.
Here's the clip, from CNN:
Have a tip we should know? [email protected]