CNN's Soledad O'Brien Says Rupert Murdoch 'A Little Bit Off His Rocker' (And That's Awesome)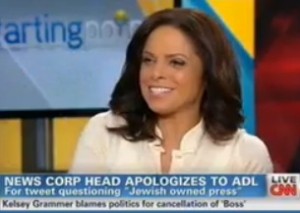 Rupert Murdoch, chairman and CEO of Fox News parent company News Corp, took quite a shellacking on Wednesday morning's edition of CNN's Starting Point, as the panel took aim at Murdoch's anti-Semitic tweet about the "Jewish-owned media," even suggesting it was a cynical marketing ploy by Fox News (a ridiculous notion belied by the absence of a statement from Fox's PR department "wishing the Jews well"). Later in the segment, though, host Soledad O'Brien expressed a certain level of backhanded fandom for the mogul, describing him as "a little bit off his rocker," and adding "It's awesome, I like that."
O'Brien quoted one of Murdoch's haiku-esque tweets, in which he opines "Petraeus resignation. Timing, everything suspicious. There has to be more to this story."
With a laugh, Soledad said, "I don't follow him, but I'm going to start. Honestly."
Dana Bash chimed in "I thought to myself, 'We're going to get this guy more followers.'"
The panel then compared Murdoch's tweets with the incoherent, inflammatory likes of former GE CEO Jack Welch, who started a slanderous conspiracy theory about the September jobs report, and Donald Trump, who called for open revolution in the minutes following President Obama's reelection.
"Orange-haired billionaires for change," cracked Howard Kurtz.
What's important about a segment like this is for conservatives to internalize the derisive laughter of this CNN  panel, because no matter how much they want to suck their thumbs and clutch that "liberal media" security blankie, this is how ordinary Americans see people like Murdoch, Trump, and Welch, and the whackjobs who went unnamed in this segment, so when other conservatives fail to back away from them as they would from a frothing squirrel, the crazy sticks to all of them.
That's why, when reasonable conservative panelist Will Cain makes some good points about Twitter, and the way it can drop your inhibitions, it comes off like he's making excuses for these guys.
"Twitter is its own little world, where your personality is developed in a way that's almost completely independent of who you are" Cain said, adding "You can be someone wholly independent on Twitter that doesn't reflect who you are."
"That's not an excuse for Rupert Murdoch," he added, which is also true of Trump and Welch. Aside from the abbreviated composition of their missives, none of these guys is stepping wildly out of character with this garbage, and aside from Murdoch's forced apology, they usually double down on this stuff in real life.
As Soledad expressed later in the segment, describing Murdoch as "a little bit off his rocker," and adding "It's awesome, I like that," there is tremendous entertainment value in this brand of unhinged tweeting, but the fact that Murdoch, and especially Trump, never pay any real price for this stuff with conservatives is a problem for them, even if it's a barrel of laughs for the rest of us.
Here's the clip, from CNN's Starting Point:
Follow Tommy Christopher (@TommyXtopher) on Twitter.
Have a tip we should know? tips@mediaite.com