CNN's Stelter: CBS Review Shows 60 Minutes Never Should Have Aired Benghazi Report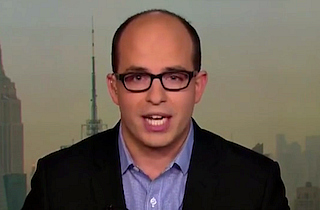 On Tuesday, CBS News completed an internal review of the process that led to 60 Minutes' discredited Benghazi story, for which the show has apologized and which has now caused correspondent Lara Logan and producer Max McClellan to take leaves of absence. An hour later, Brian Stelter, in his inaugural appearance as CNN's media reporter, said that the review showed 60 Minutes never should have broadcast the story, and "shouldn't have dug in their heels" once it was criticized.
"What the standards report suggests is that this shouldn't have gotten on the air in the first place," Stelter said. "This report shouldn't have been broadcast at all."
"Once it was broadcast," he continued, "CBS did exactly the wrong thing: they got up against the wall, they got defensive, they got in this defensive crouch. Often times see sports teams or companies or nonprofits make these mistakes, where they try to defend themselves rather than figure out what went wrong. Well, finally they did figure it out. They did this long report to try to figure out what was right and what was wrong about the story. They found that parts of the story were true and parts of the story belonged on television. But that main source you mentioned, he was discredited. And as a result, it shouldn't have been broadcast at all."
"Discredited pretty quickly, might I add, by different outlets," anchor Brooke Baldwin said.
"CBS shouldn't have dug in their heels," Stelter said. "It's always the digging-in that gets people in trouble."
Watch the full clip below, via CNN:
[Image via screengrab]
——
>> Follow Evan McMurry (@evanmcmurry) on Twitter
Have a tip we should know? [email protected]