CNN's Stelter: How Does Brian Williams Feel About Rolling Stone Punishing No One?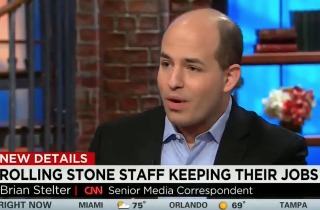 Following the news that Rolling Stone will not punish any writers or editors over its debunked campus rape story, the general reaction from fellow journalists has been a mix of bafflement and indignation.
CNN's resident media reporter Brian Stelter shared in that reaction, but also posed an interesting question for perspective: How does NBC News anchor Brian Williams feel about this news? The newsman is currently serving a six-month suspension for a (possibly career-ending) string of public embellishments about his own field reporting.
When asked on this morning's New Day why publisher Jann Wenner and Rolling Stone brass would avoid punishing anyone when so much is on the line, Stelter suggested the move has a lot to do with "loyalty" and "second chances."
"The writer of the article [Sabrina Erdely] is going to be invited back to Rolling Stone to write more in the future," he noted. "I do wonder how Brian Williams feels reading about this."
Rolling Stone chief Wenner referred to the source of the rape allegations as an "expert fabulist," essentially shifting the blame off his own writers, editors, and fact-checkers. In NBC's case, however, Williams was not defended in any such manner — instead being labeled a "fabulist" himself by the media.
Also interesting to note: Rolling Stone has fired writers in the past for much lesser offenses than this one.
Stelter concluded today's recap: "It makes all journalists look bad when there's a terrible journalistic sin like this one. It hurts the whole profession. And it's kind of baffling we're not seeing any disciplinary actions taken."
Watch below, via CNN:
[h/t Grabien]
[Image via CNN/screengrab]
— —
Have a tip we should know? tips@mediaite.com