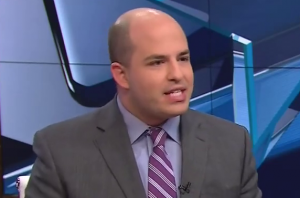 CNN media analyst Brien Stelter responded to the news that Donald Trump has selected Breitbart chief Steve Bannon to serve as his campaign CEO Wednesday morning, saying that Bannon would only drag Trump's campaign further into right-wing fringe conspiracy theories.
"This is an outlet that says CNN is Hitler," New Day host Chris Cuomo pointed out. "You think that kind of stuff coming out of Donald Trump's mouth is going to help him?"
"I mean, some of these men are masters of the dark arts, of political dark arts," Stelter replied. "And that's what people should understand, for example, about Steve Bannon."
Bannon. Ailes. Stone. Nothing is off limits now… https://t.co/VIuW5t3OPb

— Brian Stelter (@brianstelter) August 17, 2016
"When I saw this news overnight my first thought was, 'OK, nothing is off-limits now, nothing in this campaign is off-limits now.' We're going to see the most fringy ideas, the most right-wing ideas bubble up to the surface in a way we haven't even seen before in this election," he continued.
CNN political director David Chalian noted that Trump has already dipped his toes into that water by questioning Hillary Clinton's health. "That's the kind of conspiracy theory that starts in what I would call the fever swamps of the right-wing. It bubbles up on Twitter and Facebook, and on sites like Breitbart, eventually reaches [Fox News host] Sean Hannity, and then reaches Donald Trump," Stelter agreed.
Watch above, via CNN.
[Image via screengrab]
——
>>Follow Alex Griswold (@HashtagGriswold) on Twitter
Have a tip we should know? tips@mediaite.com