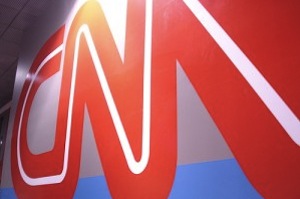 While its probably too soon for Fox News to start thinking about changing their much ballyhooed slogan of "most-watched cable news channel in America," there is little doubt that executives at all three cable news outlets are well aware of a rather stunning new development: CNN appears to have regained its mojo, and its ratings increase of the last two weeks suggest that the cable news wars might just be getting a lot more interesting.
Diagnosing the overall health of a cable news network by taking a snapshot of its ratings can be a fool's game. The mercurial nature of news cycles, combined with the itinerant nature of opinion media narratives can just as easily lead to a false positive result than a precise assessment. This is why those of us who participate in the odd business of tracking media tend to focus on the trends of viewers, or, who is gaining and/or losing viewers. Looking at the first two weeks of May (technically 4/25 to 5/8) we can determine that perhaps CNN is (finally?) doing something right.
No network has benefited more from the raft of news stories that has occurred in the last two weeks than CNN. Since April 25th the news cycle has featured lots to digest, report, and opine on, including the bluster of Donald Trump, a long-form birth certificate revelation, and President Obama roasting several media figures (including Trump) at the White House Correspondent's Dinner. Oh, and there was also that late Sunday night presidential address about some guy named bin Laden.
Though cliché at this point, it bears repeating that CNN benefits the most from real news, not the sorts of trumped-up controversies that are often the stock and trade of other, more opinionated, outlets. Yes, Fox News continues to have a dominant hold on the ratings lead, leaving MSNBC and CNN to battle for second place. However, CNN is trending way up, in a way that likely adds at least a little anxiety to the already high-stressed lives of MSNBC President Phil Griffin and Fox News chief Roger Ailes.
How much has CNN's status grown in the eyes of cable news viewers? Here are just a few highlights of the last two weeks:
CNN not only topped its rival MSNBC for second place in both prime time total viewer and in demo, but compared to last year its viewership in Prime Time is up 97% compared to last year (By comparison MSNBC is up 40%; Fox News is up 9%.)
In the last two weeks, CNN had the number one rated show, beating Fox News throughout the day (in particular at 12 Noon, 1:00 pm, 2:00 pm, 3:00
pm and 4:00 pm
Anderson Cooper's AC360 was the number one rated show at 10pm, with viewers up 131%
American Morning topped Morning Joe in demo in the last two weeks.
John King, USA topping MSNBC rival Hardball in both total viewers and demo so far in the month of May
CNN's prime shows up way more than others: Eliot Spitzer's re-tooled In the Arena is up 71% in total viewers, Piers Morgan Tonight is up 80% in demo
Perhaps most notably, the overall growth of CNN's total viewers compared to a year ago in all hours has increased far more than MSNBC and Fox News.
Of course its not unreasonable to suggest that CNN's programming in the last year had become stagnant and uninspired, which led to the low ratings of 2010 and the growth today. Or to put in crasser terms according to a current cable news exec, "CNN stopped sucking so bad."
Let me save everyone the phone calls: MSNBC will claim that this is a short-term bump, and that they will be back in second place soon, which is probably true. Fox News will likely claim that CNN is a joke, a non-issue, a non-threat, before wishing Mediaite well in our future endeavors. But, with all that in mind, is it possible that we are entering a new news cycle in which there is simply more "hard news," which will inherently help CNN? Only time will tell.
Have a tip we should know? tips@mediaite.com