CNN's Tapper Brutally Mocks Kanye: NYTimes Profile 'So Over The Top, It Reads Like An SNL Sketch'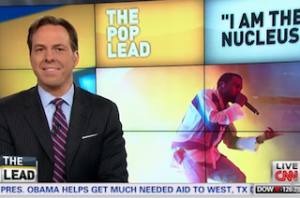 Jake Tapper took just one short minute out of his hour-long CNN show The Lead Wednesday to offer his take on an epic (and rare) interview rapper Kanye West gave to The New York Times this week. "Kanye West is giving mad props to the one man he seems to think never gets enough recognition for his majesty," Tapper began. "Of course I'm referring to Kanye West."
Tapper called the interview "so over the top, it almost reads like an SNL sketch" and asked if West calls himself "the nucleus of culture" does that make his unborn child with Kim Kardashian the "neutron of culture?" He singled out a particularly self-aggrandizing quote from the interview, in which West compares himself to Steve Jobs (elsewhere in the piece, he connects himself to Michael Jordan, Walt Disney and others).
"I think what Kanye West is going to mean is something similar to what Steve Jobs means. I am undoubtedly, you know, Steve of Internet, downtown, fashion, culture. Period. By a long jump."
Tapper was impressed by West's one moment of something approaching humility. He claimed the only reason he apologized to Taylor Swift for ambushing her on stage at the MTV Video Music Awards was because "as a human being" he had succumbed to "peer pressure."
"An admission of imperfection," Tapper concluded, "from a guy who named his upcoming album Yeesus featuring the fresh new track 'I Am A God.'" The segment brought a barrage of Twitter hate from Kanye West fans, which Tapper proudly retweeted for his followers to see.
Watch video below, via CNN:

—
>> Follow Matt Wilstein (@TheMattWilstein) on Twitter
Have a tip we should know? tips@mediaite.com