CNN's Tapper 'Furious' About Chyron on Anti-Jewish Remarks That Ran During His Show
Today on Twitter you may have come across screencaps of that CNN chyron on a white nationalist leader's anti-Jewish remarks. Well, the CNNer who anchors the program in question is not happy (and that's an understatement).
Tapper is off this week and Jim Sciutto is guest-anchoring his program The Lead. He covered the horrifying remarks made by white nationalist leader Richard Spencer in D.C. over the weekend. There were Nazi salutes in the room and at one point Spencer said, of Jews, "One wonders if these people are people at all, or instead soulless golem."
Obviously everyone on the panel was horrified by this.
Somehow during the coverage of this, the following chyron appeared on screen: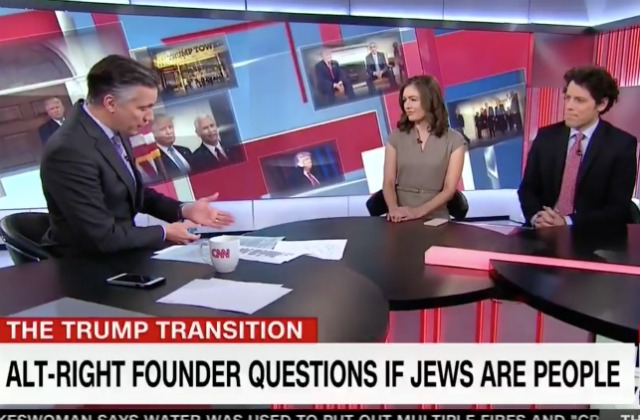 The chyron lingered on air for over two minutes.
Tapper made it clear on Twitter he's personally appalled:
@jsthorpe2 yes, I'm off this week and I'm furious about that chyron and my staff has heard from me. Unacceptable.

— Jake Tapper (@jaketapper) November 22, 2016
@heidiheilig they were not given a platform. The chyron was, however, unacceptable and will not happen again.

— Jake Tapper (@jaketapper) November 21, 2016
@nsilverberg unless you watched the segment you don't know what the message was. The chyron was unacceptable.

— Jake Tapper (@jaketapper) November 22, 2016
Sciutto also tweeted about the segment, making it clear how the comments were covered but also condemning the chyron:
As story notes wereferred to Spencer quote as "hate-filled garbage" & his backers "unabashed racists & anti-Semites" https://t.co/QVk2DCLU7O

— Jim Sciutto (@jimsciutto) November 22, 2016
I agree with @jaketapper fully however that the banner – which we don't write from the chair – was out of line https://t.co/M4aV4W330S

— Jim Sciutto (@jimsciutto) November 22, 2016
[image via screengrab]
— —
Follow Josh Feldman on Twitter: @feldmaniac
Have a tip we should know? tips@mediaite.com
Josh Feldman - Senior Editor