TJ Holmes Returns To Joplin: Residents' Reaction 'Renews Your Faith In People'
In order to gain additional perspective on the massive damage sustained by the town of Joplin, Missouri, we spoke with a former Joplin resident – TJ Holmes, host of the weekend morning edition of CNN Newsroom.
Holmes, who once worked for an NBC affiliate in Joplin as well as in other Southern cities dotted across "Tornado Alley," told us that the damage to the city is so extensive that even one 20-year resident found himself losing his bearings.
"Even if you're familiar with Joplin, you get lost in Joplin," Holmes shared. "You don't have any markers." He described how many homes, businesses and churches in the area have now been completely leveled by the storm, leaving portions of the town utterly unrecognizable. The CNN anchor drove that home for his Twitter followers by posting a picture of what his old stomping grounds look like right now: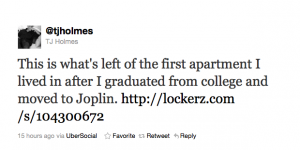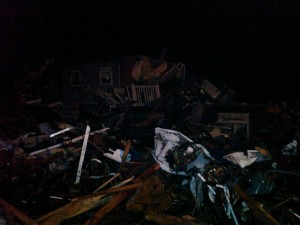 How important is it, we asked, to restore a sense of normalcy for Joplin's residents? Holmes didn't hesitate: "Vitally important. Joplin is a metropolis for the area. This is the economic hub, the engine for surrounding cities." While Joplin may only boast around 50,000 permanent residents, that number shoots up during the week as people from surrounding towns commute to the city for work or school. So, he stressed, "Joplin needs to be okay."
He shared that one hospital is still open and functioning, and that there's an effort underway to provide medical attention for those who need it most. We wondered if charities and organizations like the Red Cross were making themselves available to pick up the resulting slack in the area. "From what I've been seeing, it's mostly neighbors helping neighbors," Holmes told us. "It renews your faith in people."
Holmes also shared that he's had the opportunity to speak one-on-one with several of the town's residents, many of whom have incredible survival stories. One family, he told us, withstood the storm outdoors as it quite literally passed over their heads. They had knocked on a neighbor's door, seeking a safer place to wait out the storm, only to find that the family inside had already barricaded themselves within the basement. So, what's a family stuck outside during a massive tornado to do? Why, crouch down next to the front door and pray, hard. Against all odds, the family emerged from the experience relatively unscathed… although, unfortunately, the same couldn't be said for their home. Another woman told him how she had escaped the path of the storm simply by stepping from one side of the street to the other.
But, despite the devastation and all the work that remains to be done in order to get Joplin fully functioning once again, Holmes says the town's residents are "in good spirits."
As we thanked Holmes for his time and said our good-byes, he urged us not to forget this story in a week's time: "Two weeks from now, I want you to stay on it."
Have a tip we should know? tips@mediaite.com