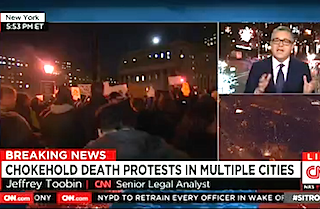 Shortly after Sen. Rand Paul (R-KY) joined Wolf Blitzer on CNN to discuss the Eric Garner case and other issues, legal analyst Jeffrey Toobin appeared on The Situation Room and pushed back on Paul's characterization of the incident. While Paul was focusing on the issue of cigarette taxes, Toobin stressed that this was really a case about excessive force by police.
"Rand Paul is the only person who is blaming it on cigarette taxes," Toobin said, "which I think is really a misreading of what happened here. Because this confrontation took place as part of an overall police philosophy in New York of cracking down on quality of life crimes."
"This had nothing to do with cigarette taxes," Toobin continued. "In addition, the cigarette taxes have a purpose that Rand Paul didn't even discuss, which is to discourage smoking, which kills people. So it is certainly appropriate for Rand Paul to be against taxes — that's a core part of his belief — but the idea that this attack, this death is due to high cigarette taxes seems fanciful."
When Blitzer tried to explain the point he believed Paul was trying to make, Toobin again pushed back. "I just think it's an extrapolation, it's an inclusion of an agenda item on Rand Paul's agenda, which is perfectly appropriate to have, but one that had nothing to do with why Eric Garner is dead," he said. "He's dead because of abusive police tactics, not because of high cigarette taxes."
However, Paul is not the "only person" blaming Garner's death on high cigarette taxes, as Toobin asserted. During his show last night, Fox News' Sean Hannity said it was the cigarette tax factor that made him "so angry" about this incident. And during his radio commentary about the case, Rush Limbaugh suggested that Garner would still be alive if it weren't for New York's tax on cigarettes.
Watch video below, via CNN:
[Photo via screengrab]
— —
>> Follow Matt Wilstein (@TheMattWilstein) on Twitter
Have a tip we should know? tips@mediaite.com