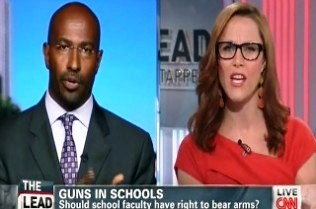 Two of the four co-hosts of CNN's Crossfire, S.E. Cupp and Van Jones, exploded in a heated battle over gun violence in America and what the federal government can and should do to prevent firearm-related deaths. The debate on CNN's The Lead with Jake Tapper over whether teachers and administrators should have had access to guns in schools in the wake of a potential a school shooting in Georgia exploded when Cupp and Jones disagreed over the value of extended background checks.

In a discussion about how an Atlanta school bookkeeper talked down a teenager with an AK-47 who had dedicated himself to shooting up the Georgia school, Jones and Cupp were asked to weigh in on the debate over whether to arm school teachers.
"When I go to a college campus, I can't bring my gun," Cupp began in a defense of the right to bring a gun onto a college or high school campus. "And we wonder why we have so many rapes and sexual assaults, because we are disarming people that would orderly be allowed to carry guns to protect themselves."
She said that "gun-free zones" are putting people in danger.
"I don't understand no why we're not wanting to talk about these sort of exotic ideas of arming teachers and that kind of stuff, when we still haven't done what the law enforcement community is saying, which is to tighten up the background checks," Jones countered.
RELATED: CNN's S.E. Cupp And Stephanie Cutter In Explosive Brawl Over Voter ID
Cupp replied that no one disagrees that dangerous people or convicted felons should not have access to guns. "The problem with this argument is always the same: criminals do not submit to background checks," she shot back.
"This gun control that you all talk about as a salve for things like this is a fantasy," Cupp added. "It's delusional."
"It's not a fantasy when you look at the numbers," Jones replied. He listed a variety of statistics which purport to show that better policing of gun ownership has resulted in a reduction in violent, gun-related crime. "No law – no criminal law – will stop all crime," Jones added. "But you can reduce crime, and we're not doing it."
Cupp called the notion that background checks for law abiding citizens would reduce crime "preposterous."
"Then what you're saying is that law enforcement – American law enforcing – is preposterous," Jones replied.
Later, Cupp was asked about the large amount of ammunition the potential Georgia shooter had on his person. Cupp said that reports indicate that this shooter had a mental health imbalance and was off his medication – a consistent feature of mass shooters and something the government should take more seriously than efforts to reduce gun ownership.
"I think we need some mental health for the people who are — these crazy lobbyists who are keeping us from implementing what law enforcement says will work," Jones countered.
Watch the segment below via CNN:
—
> >Follow Noah Rothman (@NoahCRothman) on Twitter
Have a tip we should know? tips@mediaite.com