CNN's Van Jones Stands Up For Melania, Says We 'Beat Her Up For Doing Something Good'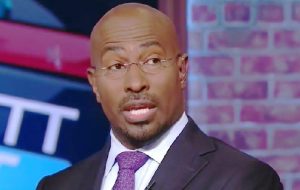 During tonight's broadcast of Erin Burnett OutFront, CNN political commentator Van Jones crossed partisan lines to praise Melania Trump for her speech earlier in the day where she decried cyberbullying.
While Mrs. Trump has dealt with quote a bit of mockery over that segment of her address based largely on her husband's own Twitter habits, Jones felt that she should be commended for both getting back out and making speeches, and for the content of the speech itself.
Early on, he noted that Melania isn't a "political wife" and that she got hurt by the "political machine" this summer over the plagiarism flap, blaming Donald Trump's campaign team for letting her "read a very bad speech." (Apparently, Van is unaware of the latest accusations of plagiarism over today's address.)
He finished that thought by calling her an inspiration despite the throwing of "all the mud and that stuff," and that one "can actually applaud" her for getting back up after being knocked down.
Later on, after analyst David Gergen highlighted Eric Trump's David Duke comments and brought up remarks made by Donald Trump Jr. in the past, claiming that this shows the entire family has an issue with coarse language, Jones pushed back.
"From a political point of view," Jones exclaimed. "She does something good and then we beat her up for doing something good because –"
At that point, the panel blew up, as many wanted to make the point that they had an issue with the hypocrisy of Melania's remarks.
Watch the clip above, via CNN.
[image via screengrab]
–
Follow Justin Baragona on Twitter: @justinbaragona
Have a tip we should know? tips@mediaite.com