CNN's Zoraida Sambolin 'Grateful' To Angelina Jolie, Announces She Will Also Undergo Double Mastectomy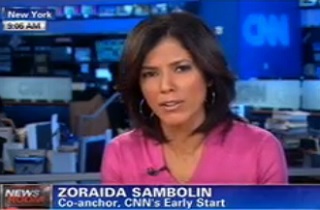 Oscar-winning actress Angelina Jolie said, in her jawdropping op-ed announcing that she'd had a preventive double mastectomy, that she hoped other women could benefit from her experience. Within hours, that hope was realized when CNN Early Start anchor Zoraida Sambolin announced that she, too, will be undergoing a double mastectomy. Sambolin posted a brief announcement on her Facebook page Tuesday morning, and later spoke on the air, with Carol Costello, about her own decision-making process, and her gratitude to Jolie for helping give her the opportunity to share the tough news.
Early this morning, Sambolin praised Angelina Jolie's courage, while breaking the news about her own condition, on her Facebook page:
I struggled for weeks trying to figure out how tell you that I had been diagnosed with breast cancer and was leaving to have surgery then..Angelina Jolie shares her story of a double mastectomy and gives me strength and an opening. #bravewoman
Sambolin, in good spirits, told Carol Costello that she was "grateful for Angelina Jolie" for providing an opening to discuss her decision with viewers. She explained that she had been diagnosed with cancer in her left breast, and was told her right breast "had some issues" that would require multiple biopsies to investigate. She explained that "at the end of the day, I need to have peace of mind and sleep at night. I have two kids that are my world. Like any woman, right? And it's what you think about. I thought for me, this would be the best decision moving forward, so that I could feel confident that it's something I'm not going to have to deal with that much more in the future."
Zoraida also spoke movingly about discussing the news with her children, and concluded with some advice for other women. She directed viewers to CNN's website for more information, and also emphasized how important it is "for women to be vigilant, and dedicated to their care," adding "because I have been, I have been very, very vigilant with this issue, and the good news is, my prognosis is really good because of that."
The CDC also has extensive information about breast cancer screening on its website, including information about free or low-cost screenings for women who might be concerned about the cost. Women who are undergoing, or may undergo, this sort of procedure should understand their rights, and be ready to fight for them. From The American Cancer Society:
Make sure your insurance company will not deny breast reconstruction costs. Your surgeon may be able to help you with this if your insurance plan wants to deny coverage,
so be sure to ask. It may take some time and effort, because health plans have denied coverage for certain reconstruction procedures despite federal laws that require coverage in most cases. They often reverse such decisions on appeal.
The 1998 Women's Health and Cancer Rights Act requires most insurance carriers who cover mastectomies to also cover reconstruction, including the following:
Reconstruction of the breast that was removed by mastectomy
Surgery and reconstruction of the other breast to make the breasts look symmetrical or balanced after mastectomy
Any external breast prostheses (breast forms that fit into your bra) that are needed before or during the reconstruction
Any physical complications at all stages of mastectomy, including lymphedema
The courage shown by people like Angelina Jolie and Zoraida Sambolin provides the news media with an opportunity to fulfill journalism's highest calling, to provide information in the public's interest. There's an excellent chance that the awareness these women are bringing to breast cancer detection and treatment will save lives.
Have a tip we should know? tips@mediaite.com