Code Pink Protester Who Interrupted Obama To CNN: I'm Not A 'Heckler' …And I'm Not 'Crazy'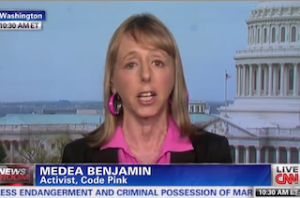 Code Pink co-founder Medea Benjamin not only managed to completely derail President Obama's hour-long counterterrorism speech yesterday, she also got to bring her message to CNN today. Benjamin faced off with CNN's Carol Costello for a somewhat contentious interview Friday morning, with the protester pushing back on accusations that she's a "crazy" "heckler."
"First, I want to take objection with the term 'heckler,'" Benjamin began, "because I actually had an invitation to get in." She did not specify how she got access to the event, but apparently she was able to attend as a member of the "press." Benjamin also insisted that she "waited until the end of the speech" to begin shouting "You can close Guantanamo today," when in reality her outburst came at the beginning of Obama's section on that topic.
"You clearly interrupted the president, though" Costello told Benjamin. "That would be called heckling." When the protester pushed back on that description, Costello added, "it seems the president was changing his tone on Gitmo and on drones, so you were kind of getting what you wanted anyway, so why go into this speech and heckle him when he's kind of talking in a way that you should welcome?"
Benjamin maintained that her actions were justified because she wasn't hearing the policy prescriptions in the speech about the drone program and Guantanamo Bay that she and her group had wanted the president to announce. She brushed off Costello's assertion that she was perhaps "hurting her own cause" and seemed "rude" and "a little crazy" by pointing to the "fabulous response" she has received.
"I think killing innocent people with drones is rude. I think keeping people who are innocent in indefinite detention for 11 years is rude," Benjamin said. "There are a lot of rude things about our policies, speaking out is actually not rude, but it's the basis of a Democratic society where people use their voices to try to make our country better and our policies more in line with the rule of law."
Watch video below, via CNN:
—
>> Follow Matt Wilstein (@TheMattWilstein) on Twitter
Have a tip we should know? tips@mediaite.com