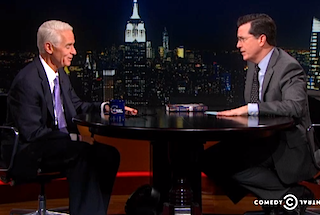 Before New Jersey Governor Chris Christie came under fire for embracing President Barack Obama during the aftermath of Hurricane Sandy, former Florida Governor Charlie Crist was probably the most prominent Republican who hugged the president and was quickly dismissed by his own party.
On last night's Colbert Report, Crist recalled how his own fateful embrace of Obama led directly to him losing a Florida Senate bid to a newcomer named Marco Rubio. As for why Republicans reacted so negatively to the hug, Crist said it had something to do with the president's race.
"Sadly I think another part of it was that he was a Democrat, but not just a Democrat, an African-American," Crist told Colbert.
"Oh, you're not going to play the race card," Colbert replied quickly. When Crist said, "I'm not going to play it, no," Colbert shot back, "You just did, you just did. Would you like to pick it up again and put it in your pocket? Because you just played the race card."
"I'm just trying to tell the truth," Crist explained. "I have seen a level of vitriol directed at this president that I have never seen directed at President Kennedy or maybe President Johnson or even President Carter."
Crist, who is now running for governor in Florida again, this time as Democrat, describes the hug in great detail in his new book, The Party's Over: How the Extreme Right Hijacked the GOP and I Became a Democrat
. Colbert delivered a dramatic reading of that passage, more to the delight of his audience than his guest.
Watch video below, via Comedy Central:
[photo via screengrab]
— —
>> Follow Matt Wilstein (@TheMattWilstein) on Twitter
Have a tip we should know? tips@mediaite.com