Colbert and Paul Krugman Settle the Obamacare CBO Report Score Once and for All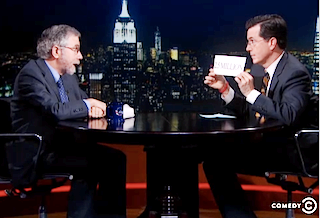 From the moment the non-partisan Congressional Budget Office released its economic outlook report earlier this week, there has been some seriously partisan disagreement about what exactly it says about the Affordable Care Act. New York Times columnist Paul Krugman is one of many who have pointed out that the reduction in labor predicted by the CBO does not count as "killing jobs" because it will come almost entirely from workers who voluntarily choose to work less.
Last night, Krugman sat down with Stephen Colbert to help fight back against some of the right-wing talking points that have been using the CBO report to "prove" that Obamacare is a "job-killer." He began by calling out the "media malpractice" he has seen over the last few days, with many news organizations getting the story "completely wrong."
Predictably, Colbert pushed back against Krugman's argument, holding up a big card with the words "2.5 million" on it to represent the supposed jobs lost, despite that fact that he himself did not read the CBO report. "That's Obama's vision for America, everybody work less," Colbert said. "Phone it in. Everybody gets a snow day!"
Colbert felt he had achieved a particular victory when he (almost) got Krugman to admit that Obamacare is "redistribution of wealth," something the economist said he doesn't necessarily have a problem with.
"There's a little bit of redistributing from people who've been lucky to people who've been unlucky," Krugman said.
"Lucky?!" Colbert exclaimed. "You think I didn't earn this job. I mean I did the work of being toll-booth worker on the Jersey Turnpike and having Jon Stewart drive through one day and say, 'Do you want a television show?'"
Watch video below, via Comedy Central:
[photo via screengrab]
— —
>> Follow Matt Wilstein (@TheMattWilstein) on Twitter
Have a tip we should know? tips@mediaite.com