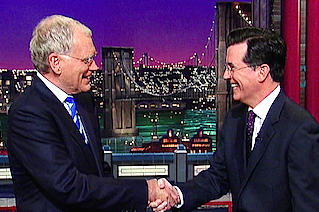 When Stephen Colbert was announced as the successor to David Letterman on CBS' Late Show, the response was equal parts excitement and, "Really, another white guy?"
Ahead of his September 8 premiere, Colbert is attempting to assuage any potentially angry female viewers with a new column in Glamour magazine in which he promises to create a late night show that "not only appeals to women but also celebrates their voices."
"While there are many talented female comedians out there, right now the world of late-night is a bit of a sausagefest," Colbert writes, adding that he hopes that contradiction will not exist in the near future.
"Jimmy Fallon has a boyish charm, and for the ladies who are into ladies, if you squint, Jimmy Kimmel kind of looks like a rugged Mila Kunis," he adds. "But female viewers need more than a pretty face. They need someone who will represent their voice. And I think this essay has proved that I have an authentic female perspective, because most of it was written by two female writers on my staff."
"Point is, I'm here for you, and that means I'm going to do my best to create a Late Show that not only appeals to women but also celebrates their voices," Colbert concludes. "These days TV would have you believe that being a woman means sensually eating yogurt, looking for ways to feel confident on heavy days, and hunting for houses. But I'm going to make a show that truly respects women, because I know that there's more than one way to be one."
According to comedian Kathy Griffin, when CBS was searching for a replacement for Craig Ferguson she was told the network was "not considering females at this time." That job ended up going to yet another white (British) guy, James Corden. CBS subsequently denied Griffin's claim and said they had met with "several female candidates" for the job.
The year's other big late night opening came over at The Daily Show, where Trevor Noah, who is a guy, though not a white one, will be taking over for Jon Stewart late next month. Several female names were tossed around for that gig, including Jessica Williams, Amy Poehler and Amy Schumer, but all three rebuffed their respective offers in one way or another.
Read Colbert's full essay at glamour.com.
[Photo via screengrab]
— —
>> Follow Matt Wilstein (@TheMattWilstein) on Twitter
Have a tip we should know? [email protected]