Colbert Applauds Fox News For Extensive GSA Coverage: They Were All Over Story Like 'White On Fox News'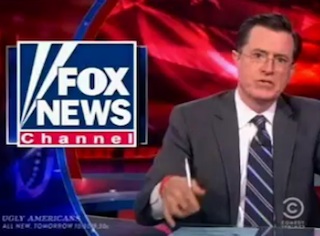 On Tuesday's Colbert Report, Stephen Colbert lauded Fox News for their extensive coverage of President Obama's GSA scandal, saying he knew his buddies at Fox News would be all over this story like "white on Fox News." Colbert assured an outraged Greta Van Susteren that he was covering this story with a "raging rage-on."
"They've been blowing our bucks in Vegas on wine, hot tubs and apparently man perms." Colbert keenly observed, taking a dig at GSA official Jeff Neely's 70s porn star hairdo.
RELATED: Judge Napolitano Says 'Yes,' GSA Scandal Is 'A Conspiracy To Defraud The Government'
Colbert would not let Obama off the hook for the department's malfeasance.
"The President is responsible for anything the government does while he's in office," said Colbert. "I waited 17 minutes at the post office today and there was an empty window there the whole time. Where was Obama?"
Colbert was quick to bring things back to Neely's skeezy hot tub.
"Folks, that tub goes deeper. Notice that there are two wine glasses in that photo. Who was the other one for?" Colbert asked. "And come to think of it, who took the photo? Someone else had to be in that bathroom and when you eliminate everyone I don't want it to be, there's only one person it could be, Barack Obama! I mean, it makes sense. This happened on his watch. Oh, surely the Secret Service wouldn't have let that happen. oh, i suppose if they weren't too busy banging hookers in the next room! And, folks, I ask you, if it wasn't Obama why is he smiling in this photo? And you may ask was this photoshopped? Yes, but it was photoshopped on his watch."
Watch Colbert extol Fox News for their GSA coverage below via Comedy Central:

Have a tip we should know? tips@mediaite.com