Colbert Asks Jose Antonio Vargas: More Difficult Coming Out As Undocumented Or As 'Border Gay'?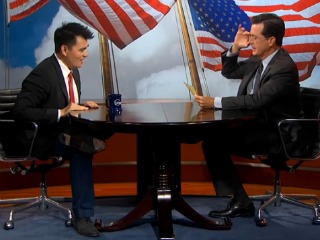 Jose Antonio Vargas, the reporter who made news recently after admitting he has been in the U.S. illegally since childhood, paid a visit to The Colbert Report last night.
Vargas and host Stephen Colbert presently entered into a discussion on whether to refer to Vargas as "an illegal" or as "undocumented." "You are what we in The America World call 'illegal'," said Colbert, high five-ing a bald eagle wearing wraparound sunglasses.
Colbert then asked Vargas whether he is from Mexico. When told that Vargas was actually born in the Philippines, Colbert scoffed, noting that it's simply "Water Mexico." [Although, word of advice from someone born of people from That Island Mexico Where People Grow Sugarcane And Cigars And Where Che Is President Or Something: The word "puto" does not mean the same thing in Mexico as in the Philippines.]
Colbert tackled some pretty heavy issues during the interview, like whether various people in Vargas' life — including a teacher who changed a class trip from Japan to Hawaii after learning Vargas did not have a passport — helped enable a crime and whether it was more difficult to come out as a gay man or as an undocumented immigrant a Border Gay:
Thankfully, we live in a great country that doesn't deport gay people, so I'm very very happy about that. But I decided to come forward because I'm just one of eleven million undocumented people in this country. I actually came out here tonight, you know, we've had two — in the span of two days — about 90,000 people have signed a petition to pledge they're going to talk about immigration in a different way.
Vargas' ultimate goal, he says, is for his group, DefineAmerican.com, to "take the politics out" of talks surrounding immigration, and eventually works towards fixing a system that is badly broken (which is something, he noted, on which he and former President George W. Bush can agree).
Colbert, after asking whether Vargas would like to become a citizen of "Colbert Nation," ended the interview with a joke we honestly didn't see coming. Check it out, courtesy of Comedy Central:
Have a tip we should know? tips@mediaite.com