Colbert Blows Up 60 Minutes Benghazi Report with Exclusive Leak From CBS Intern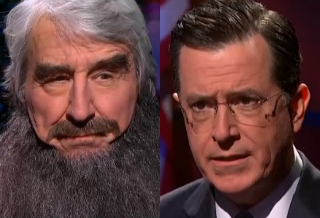 Determined to get to the bottom of what happened with 60 Minutes' erroneous Benghazi report, Stephen Colbert happened upon a theory that perfectly fit his preconceived notions. During extensive coverage of the story Monday night, the host became convinced that the original piece was accurate but someone had forced CBS News to air the correction. "There's only one logical explanation for what really happened here," Colbert said. "Hillary Clinton got to them!"
To help give credibility to his premise, Colbert tracked down an eyewitness to reveal how CBS News decided to issue its apology Sunday night. The host's exclusive interview with a 60 Minutes intern who would only identify himself with the alias "Pancho Denews." The witness recounted how, as he was returning from picking up chewing tobacco for Lesley Stahl, he heard "explosions of shouting."
The rest of the story confirmed Colbert's suspicions, as Denews described how Hillary Clinton "and her band of thugs" entered the newsroom, swinging bike chains and threatening to kill the Benghazi story. And that was before the former secretary of state "pistol-whipped" Morley Safer.
But the biggest surprise of all came when Denews revealed himself to be, not actor Sam Waterston as you may have expected, but ACN's Charlie Skinner from the "HBO documentary The Newsroom." In true Aaron Sorkin-fashion, Skinner tricked Colbert to "prove a point, that as journalists we are the gatekeepers of truth."
Colbert ended the segment with a Lara Logan-style correction, blaming everyone but himself for the egregious mistake.
Watch video below, via Comedy Central:
[photo via screengrab]
— —
>> Follow Matt Wilstein (@TheMattWilstein) on Twitter
Have a tip we should know? tips@mediaite.com