Colbert Calls Obama a 'Pussy' for 'Limp Leadership' on Syria: It's Time to 'Blow Some Sh*t Up!'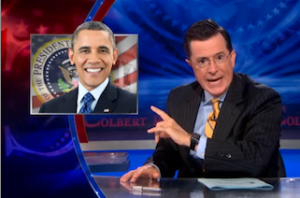 Stephen Colbert opened his show Wednesday night by tearing into President Obama for his "limp leadership" on the debate over military action in Syria. He proceed to long for the good old days when President George W. Bush successfully sold the war in Iraq to the Americans with a "zazz" that Obama is sadly lacking.
"As the world's policeman, America has a moral imperative to blow some shit up," Colbert told his viewers. "But thanks to Obama's limp leadership, that idea is going over like a turd falafel." He lamented polls that show only 29% of Americans want the U.S. to attack Syria. "Now on the plus side, that means 29 percent of Americans know there is a place called Syria," he said.
Colbert translated Obama's most recent speech on his decision as, "We don't know what we want to do. We won't do much and it doesn't matter when we want to do it. Now, who's with me?!" With a pitch like that, all Colbert's "crack graphics department" could come up with is ""Cris-Ish in Syri-Eh."
"C'mon you pussy," Colbert said to Obama, "Slap some AndroGel on your coin purse and grow a pair!" This led Colbert to compare the war-selling styles of Obama and Bush. "That man knew how to sell a war," Colbert said of Bush. "I love being lied to by a professional." He then delivered the terrifying speech Obama should have given, which you'll have to see to believe.
Watch video below, via Comedy Central:
[photo via screengrab]
— —
>> Follow Matt Wilstein (@TheMattWilstein) on Twitter
Have a tip we should know? [email protected]