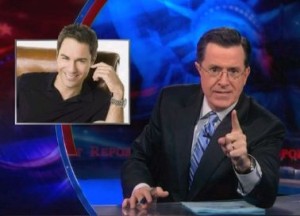 Nothing makes Stephen Colbert's "blood boil" like "our Comrade-in-Chief President Obama." But luckily, Colbert has the spoonful of sugar that is Joe Biden to help Obama's "socialist policy" go down. A reliable source of comic relief.
(Cue montage of Biden gaffes — including "jobs" being a three-letter word and "God bless her soul … Wait, your mom is still alive.) And now, Biden strikes again, saying he's comfortable with same-sex marriage. But, Colbert concluded, it's not his fault! It's the fault of cultural influences: Will & Grace.
TV shows can change your mind, he said, and added, "These gay sitcom characters or humorsexuals are a menace to society" — because "real men know men don't love each other." Joining him to discuss this was none other than Eric McCormack, or Will himself.
McCormack said he's not pissed off about Biden's remark, but in fact, "proud that we helped to create a more tolerant atmosphere for gays and lesbians." And that's when Colbert pointed out the problem in this reasoning: "There is only so much tolerance to go around. If we're tolerant to gays and lesbians that means there is less tolerance left over for straight people. That's just supply and demand."
"Have you been drinking Purell?" McCormack asked. Colbert then declared there's only one way for McCormack to prove he doesn't hate straight couples: a reading of Pussyhounds, Colbert's new sitcom starring two guys name Will and Grayson, who are always on the prowl. For the ladies.
And Colbert begins: "Hey, you ready to hit the clubs, Grayson? The ladies are going to be calling me Exxon Mobil because I'm going to drill baby drill." McCormack, ahem, Grayson, responded, "Yes, are you extremely successful at sex" — and then said he was going to propose. The reaction? "Why would you get married, Grayson? This sitcom that we are in proves that it is completely acceptable for two straight guys to live together."
Groundbreaking television, indeed. And then the whole thing goes off Colbert's script, as Colbert/Will pleads, "What can she give you that I cannot give you? I care for you. I share your hopes and dreams. […] You know, we work out together. We shower together."
McCormack/Grayson is not having it. The scene ends emotionally. After all, Colbert/Will said, "I thought we would grow old together."
Take a look, via Comedy Central:

Have a tip we should know? tips@mediaite.com