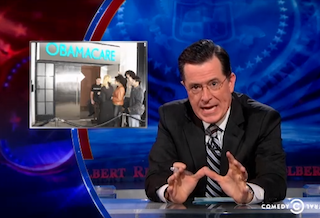 Like the reliable conservative pundit he pretends to be, Stephen Colbert has been railing against Obamacare for weeks. But now that the first estimates of health care enrollee numbers have started to emerge, the host is changing his tune.
With only about 50,000 people successfully able to sign up for plans under the Affordable Care Act's exchanges, the idea of this "exclusive" club started looking better to Colbert. "50,000," Colbert remarked. "To put that into perspective, that's fewer people than watch Up Late with Alec Baldwin. (Well, not quite, but it's close.)
With an estimated 48 million uninsured Americans, Colbert calculated a 0.1% acceptance rate. "So Obamacare is 58 times harder to get into than Harvard," he reported. "I had no idea Obamacare was going to be this exclusive, which kind of makes me want in. I mean, I'll join anything that won't have me."
"Obamacare is like an impossibly hip club that covers your hip replacement," Colbert continued. He implored President Obama to help him get on VIP list before the website gets fixed. "I wouldn't want this exclusive club to be ruined by a bunch of poor people."
The Department of Health and Human Services is expected to release official numbers on enrollees by the end of this week, at which time the Obama Administration will likely be forced to address the disappointing figures for the first time.
Watch video below, via Comedy Central:
[photo via screengrab]
— —
>> Follow Matt Wilstein (@TheMattWilstein) on Twitter
Have a tip we should know? [email protected]