Colbert Drops to 3rd Place Behind Kimmel as New Poll Shows CBS Host Alienating Audiences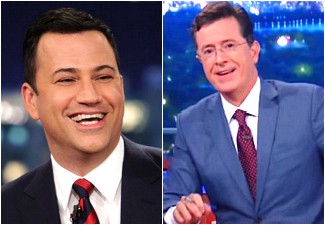 For Stephen Colbert, the late-night honeymoon appears to be over.
The dose of reality comes upon tracking the last three weeks available on the ratings front. But first, a quick review of where we were and how we got here on the late-night competition front: outside of Colbert's opening week, NBC's Jimmy Fallon and The Tonight Show have beaten his CBS competition every week with plenty of room to spare. No surprise there, as even CBS execs concede they had no illusions of beating Fallon as Colbert and The Late Show find their groove. But that's not to say Colbert has disappointed anyone at the Tiffany Network, either, finishing a solid second ahead of ABC's Jimmy Kimmel in both total viewers and the demo in September and much of October.
Most importantly for Colbert, he's found a niche in offering what the Jimmys can't really offer (particularly Fallon): consistent political satire and more substantive interviews with big political guests (his interview with Joe Biden as the vice president openly displayed his inner conflict on running for for president was widely-praised in this space and pretty much everywhere else). But therein lies the rub: most sit-downs with politicians don't exactly result in riveting television (outliers like Donald Trump or Hillary Clinton to a lesser extent notwithstanding). And Colbert has shown almost no willingness to hit both sides of the aisle even close to equally… it's simply not in his DNA.
Consequently, according to a Hollywood Reporter poll just released, Colbert has successfully alienated self-described Republicans who see what's being offered on a nightly basis and exploring or staying with other options. And with the country as polarized as it is, the host is thereby saying goodbye to half his potential audience, which can't be a sound business model.
Per The Hollywood Reporter's survey of 1000 late-night viewers aged 18-65, only 17 percent of those identified themselves as Republican watch Colbert, while attracting 47 percent of those who identify as Democrats, a 30-point gap. But more liberals watch late-night TV than stuffy, old conservatives, right? Guess again. In Kimmel's case, the split is 34 percent Democrats, 33 percent Republicans. In Fallon's case, it's 36-31 Democrats.
Why so even-keeled? Because Kimmel and Fallon go through great lengths to be apolitical. To equally mock or simply find other props and topics to use for comedy outside of political humor and (oftentimes in Colbert's case) commentary on how stupid/awful/inept Republicans are. It's a smart approach if the goal is to reach as broad as audience as possible, something Colbert never cared to achieve going back to his Comedy Central days and The Colbert Report. In character, out of character… Colbert is Colbert. And that's fine on Comedy Central, even downright expected. But network TV? Not so much…
The ratings result of said approach is now beginning to come to fruition as the bloom comes off the rose ten weeks since his debut. Over the first six weeks since launching, Colbert beat Kimmel by an impressive 40 percent in the demo. But the week of October 19-23 saw Kimmel win the week over Colbert during his now-annual trek to Brooklyn, pushing the CBS host down to third place. The following week, Colbert beat Kimmel, but only by seven percent ("only" because the margin was once 40 percent a few weeks ago). And in the first week on November (2nd-6th), Kimmel won again over Colbert, besting him by 5% in both adults in the key 18-49 rating (0.60 vs. 0.57) and total viewers (2.626 million vs. 2.492 million). That's a 45-point swing… a disturbing trend for CBS that won't likely suddenly change now that the Late Show has settled in. Are Colbert's numbers better than Letterman's numbers a year ago? Of course, given the low bar. There is a reason why Dave retired (besides age) after all.
Moving forward for the time being, the margin is slim enough for Colbert to still win some weeks here and Kimmel to take some others there. Both, of course, will be looking up at Fallon, who has made everyone quickly forget–particularly those running things at 30 Rock–about even former #1 Jay Leno sitting in the same chair (decimating Colbert by 60% in 18-49 rating–0.91 vs. 0.57–last week alone).
The Late Show started off strong, as is usually the case when hype and an adoring press are at your back. But taking a side night-in-and-night-out on the political front is something the great Johnny Carson never did, nor Leno. Both achieved great success in doing so. Colbert is cut from a different cloth. Old Comedy Central habits die hard or not at all.
He's now the owner of a 30-point gap between Democrats and Republicans who watch. His competition is almost evenly split in the same poll.
Stephen Colbert now drops to third place: a result about as predictable as whom and what his political targets will be during each night.
— —
Follow Joe Concha on Twitter @JoeConchaTV
This is an opinion piece. The views expressed in this article are those of just the author.