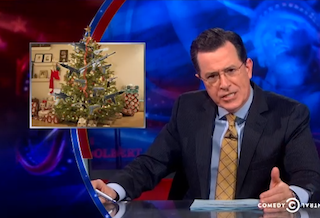 With Thanksgiving come and gone, Stephen Colbert kicked off 2013's "Blitzkrieg on Grinchitude" with a look at one miraculous Christmas Tree that boldly stopped a bullet during a drive-by shooting late last week. "If our Christmas trees are willing to show this type of bravery," Colbert said, "let's at least make it a fair fight."
The host began by warning against the "secular Christmas-haters out there" who are planning their "offensive against the baby Jesus." In order to fight back against those who want to diminish the holiday, Colbert highlighted the Pennsylvania Christmas tree that may have actually saved some lives.
"If the tree wasn't there, we would have had that couch right under the windows," Tina Smorey told Pittsburgh's KDKA after her house was hit with the stray bullet.
"What an inspiring act of courage," Colbert said. "By silently volunteering to be put where the couch had been, the tree placed itself in the line of fire. And when the shooting began, the tree didn't hesitate to not move."
This brought the host to his major proposal. "It's time to get rid of the onerous government regulations preventing trees from having guns," Colbert said. He admitted that a tree "here or there will inevitably go crazy and turn its ornaments on the family, but it's not the gun's fault." Instead, we just need to make sure trees "get the mental health treatment they desperately need."
Colbert's segment just happened to come on the same night that his beloved "Papa Bear" Bill O'Reilly launched his own War on Christmas coverage, complete with warnings against "creeping secularism and pressure groups like the ACLU."
Watch video below, via Comedy Central:
[photo via screengrab]
— —
>> Follow Matt Wilstein (@TheMattWilstein) on Twitter
Have a tip we should know? [email protected]