Colbert Goes After ABC News 'Super Sleuth' Jon Karl's 'Journalism' Behind Inaccurate Benghazi Report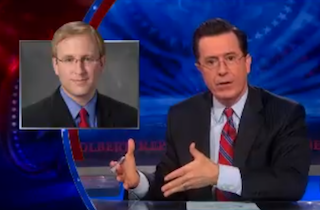 President Obama's recent woes provided Stephen Colbert with glee on Monday night as he presented the Obama Scandal Booth, ready to help himself to a healthy portion of controversy. But the subject of his scrutiny was not the president, it was ABC News' Jonathan Karl, whose Benghazi report on talking points has come into question. Colbert joined in on the criticism, seeking to understand Karl's so-called "journalism."
Colbert stepped into the booth, which was swirling with slips of paper — each with a scandal written on it — to "grasp wildly at any accusation that floats past." As luck would have it, Monday's winner was: Benghazi.
Which of course brought him to the topic of Karl's report on the emails exchanged about the talking points. One email by national security adviser Ben Rhodes, in particular, which Karl later said was based on a paraphrase — not the actual email. (Karl has since said he "regretted" not properly attributing the quote, but the story still stands.)
"Super sleuth" Karl's story was a bombshell… until it wasn't. Since Rhodes actual email showed he never mentioned the State Department, as Karl had reported "verbatim" from a source.
"Yes, Karl never saw the email. So when he quoted from it, those quotes were in quotes," Colbert reasoned, gesturing air quotes. "I mean, that's just what you call 'journalism.'"
He then proceeded to offer some "journalism" of his own.
Watch below, via Comedy Central:
Have a tip we should know? [email protected]