Colbert Grills Bill Clinton On His 'Totally Selfish' Philanthropy, Forces 'PrezBillyJeff' To Join Twitter
Colbert Grills Clinton On 'Totally Selfish' Philanthropy, Forces 'PrezBillyJeff' To Join Twitter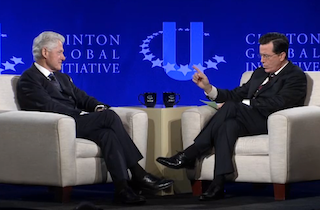 Stephen Colbert welcomed former President Bill Clinton to the "Colbert Galactic Initiative" in their interview, which aired on Monday night. The pair discussed Clinton's philanthropy and the work he's done following his presidency — and Colbert even did Clinton the favor of bringing him into the 21st century of social media.
"May I call you Billy Jeff?" Colbert began, warning Clinton, "the Medusa of political persuasiveness," that he was not on Charlie Rose. "If you start filibustering, I will cut you off."
With that, they were off — starting with a discussion about, of course, the Clinton Global Initiative. "Why help other people," Colbert asked simply. Clinton spoke about family but also the world's interconnectedness, noting there's not much difference between "selfless" and "selfish." Helping others and the global community, he asserted, in the end makes us better off as well.
Why not just call it the "Clinton America Initiative," Colbert questioned, citing the first line of the constitution, "USA, number one." Clinton agreed our economic priority should be domestic, but that in part depends on a "more receptive world to improve in." As Clinton went on to answer the questions earnestly, Colbert responded with his characteristic quips and over-the-top patriotism, which the former president took in stride.
Later in the interview, Colbert moved on from Clinton's "totally selfish" (Clinton's own words) aid work. The clip that's been making the media rounds this morning, came toward the end when Colbert pressed Clinton on his tech savvy — or lack thereof. Admitting his insecurity, Clinton said he isn't on Twitter because, "What if you tweet and nobody tweets back?" (Obviously an issue Clinton would encounter.)
Taking matters into his own hands and ignoring concerns that Clinton would be a "friendless Tweeter" wandering in cyberspace, Colbert forced the Twitter account @PrezBillyJeff onto the former president (the normal handles were taken, you see).
He went on to ask for Clinton's first tweet, with smartphone in hand. "Just spent amazing time with Colbert," Clinton replied…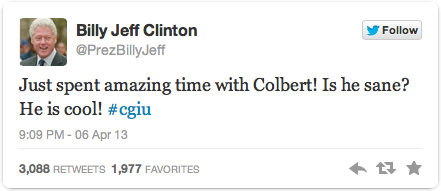 Take a look below, via Comedy Central:
Have a tip we should know? [email protected]