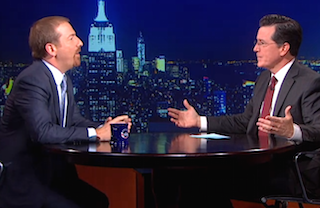 The night before the 2014 midterms officially got underway, Stephen Colbert invited Meet the Press host Chuck Todd on his show to give the rundown on what we can expect as Americans head to the polls to cast their votes. "Who's going to win, who's going to lose and who cares?" Colbert asked him.
Todd, who was promoting his new book about President Barack Obama, ominously titled The Stranger
, said the "cynic" in him recognizes the "sad" part of this election is that America is spending $4 billion to decide whether it's Mitch McConnell or Harry Reid that's "in charge of the filibuster."
He went on to predict that if either North Carolina or New Hampshire has gone Republican before midnight then it is going to be a wave night for the GOP and the only question will be how big their margin in the Senate will be. If not, it could be January before we know what the true outcome is, due to potential run-offs in Georgia and Louisiana.
"These midterms are so exciting, I know you love them so much," Todd said. "Not only could we have recounts — you love those, not only will it take the Iditarod to get the votes from the bush country in Alaska to find out who wins Alaska, but we'll have runoffs in Louisiana, and a runoff in Georgia in January. So why shouldn't these midterms last until January of 2015? They're very exciting."
"Chuck, if I have to keep talking about the midterms after tomorrow night, I'm going to go to Maine and start making out with that nurse," Colbert replied.
Watch video below, via Comedy Central:
[Photo via screengrab]
— —
>> Follow Matt Wilstein (@TheMattWilstein) on Twitter
Have a tip we should know? tips@mediaite.com