Colbert Grills Sen. 'Carlos' Schumer On Gang Of Eight's 'Wham-Bam-Thank-You-Ma'amnesty' Immigration Bill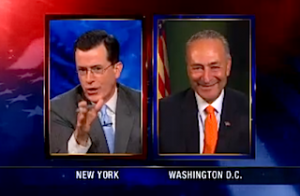 Following the passage of comprehensive immigration reform legislation in the Senate yesterday, Stephen Colbert welcomed Sen. Chuck Schumer (D-NY), or as he called him ""Carlos" Schumer, onto The Colbert Report last night via satellite to discuss its potential for actually becoming law.
The interview was actually taped before the vote took place, but Schumer correctly predicted that it would receive approximately two thirds of the vote in the Senate. When Schumer described how the bill provides a "path to citizenship" for undocumented immigrants, Colbert shot back, "It's amnesty! It's shamnesty. It's a slide of hamnesty! It's rasberry jamnesty! It's wham-bam-thank-you-ma'amnesty!" before revealing his rhyming dictionary.
Asked by Colbert if this was just a "ploy" for Democrats to get votes, Schumer said the "bottom line" is that this is "one of the best things we can do for America."
"So, why don't you just prove that this isn't about votes by saying right now, you don't care about the Latino vote?" Schumer diplomatically said he cares about getting "everyone's vote," not just the Latino community.
Colbert was extremely intrigued by the "Gang of Eight," the bipartisan group of eight senators who drafted the bill. "Are there other gangs on the Senate floor, like Crips or Bloods?" he asked. "If you throw the wrong gang sign, could John Cornyn cut a bitch?" He also wanted to know if the members get a "tear tattoo on your face for every bill you pass."
Finally, Colbert turned to the substantive question of the day: "What's going to happen to this bill when it gets to the House?"
Schumer predicted there would be "a lot of pressure on the House" to pass the bill despite its overwhelmingly conservative make-up."
Noting how the Senate has become "marginally more functional" than the House, Colbert asked Schumer, "when you work so hard and for so long on legislation in the Senate, and then send it over to the House of Representatives, does that ever feel like you're nudging your fully-grown child into a field full of bear traps?"
The best Schumer could come up with was, "We're hopeful the House will rise to the occasion."
Watch video below, via Comedy Central:
—
>> Follow Matt Wilstein (@TheMattWilstein) on Twitter
Have a tip we should know? tips@mediaite.com