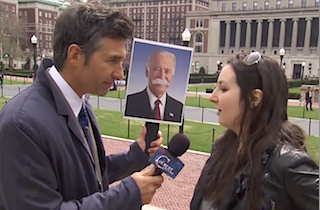 If you've ever seen Jesse Watters' field segment for The O'Reilly Factor, then you are familiar with his unique way of making America's youth look like complete idiots using only his charming interview skills, a popped collar, and random clips from movies. Last night, Stephen Colbert dedicated the opening segment of his show to all things "Watters' World," even presenting his own roving correspondent in a new segment titled "Tad's Turf."
Colbert began by praising his "papa bear" Bill O'Reilly, "one of the smartest guys out there" who "doesn't have to prove that other people are dumb." That's why he hired Watters to do it for him.
After playing some of Watters' greatest hits, Colbert assessed his work. "Notice how Watters blends investigative journalism and smash cuts in a way that makes you think about the news, and also think, 'is my cat stepping on the remote?'" he said.
For Colbert's version of "Watters' World," the host introduced his building manager Tad (played by longtime writing partner Paul Dinello), who has "all the qualifications that Jesse Watters does: He reflects light… and that's about it."
Tad headed up to "liberal" Columbia University, where the students he encountered knew way more than the ones Watters found. "Clearly, somebody had warned these people I was coming," Tad said. "There had to be a way to make young people look stupid. I just had to find the right young people." What followed was a game of "gotcha" beyond Jesse Watters' wildest dreams.
Watch video below, via Comedy Central:
[Photo via screengrab]
— —
>> Follow Matt Wilstein (@TheMattWilstein) on Twitter
Have a tip we should know? tips@mediaite.com