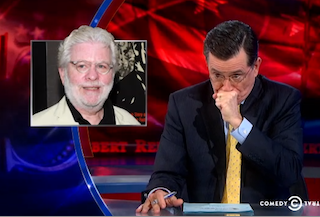 Washington Post columnist Richard Cohen didn't find many supporters on the right or the left after he wrote in his latest column that "people with conventional views must repress a gag reflex" when thinking about New York Mayor-Elect Bill de Blasio's interracial family. But leave it to Stephen Colbert to offer up a hearty defense of Cohen… if only he could get through it without gagging.
Colbert began defending "homeless Col. Sanders Richard Cohen" by saying "it's not racist to gag when you see an interracial couple. A real racist would actually throw up on them." He instead directed his anger at all those people in the media piling on Cohen. "Folks, that is no different from a lynch mob… is what I would say if I were racially insensitive," he said.
The host also marveled at Cohen rhetorical tactic of putting something in parentheses that he obviously doesn't mean. In the case of the de Blasio column it was this line: "(Should I mention that Bill de Blasio's wife, Chirlane McCray, used to be a lesbian?)"
Colbert took a page out of Cohen's playbook to present his own parenthetical comments. "Should I mention that Richard Cohen sympathized with George Zimmerman after Trayvon Martin's death?" he asked, with giant parentheses on either side of his head. "Should I mention that Richard Cohen once suggested that it's OK to keep black customers out of your store? Should I mention that if Richard Cohen is not a racist, I don't what he is? Maybe just a really bad writer?"
Lest anyone attack him for saying those things, Colbert said he was just expressing the "conventional" reaction to Richard Cohen. Then he gagged.
Watch video below, via Comedy Central:
[photo via screengrab]
— —
>> Follow Matt Wilstein (@TheMattWilstein) on Twitter
Have a tip we should know? tips@mediaite.com