Colbert On Roger Ailes' Attempt To Enlist Petraeus: He's Worried About Casting His Reality Shows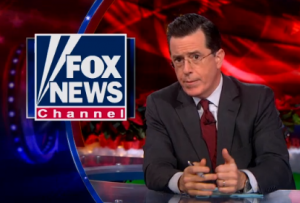 Stephen Colbert turned his attention to Fox News on Monday, pondering the recent story about Roger Ailes' possibly-somewhat-facetious effort to enlist David Petraeus for a presidential bid. It wasn't a joke, he said, but an effort to better the casting in his reality show. But why let Fox have all the fun? Let's get some picks from Hoarders and Cupcake Wars while we're at it.
Since the election, Colbert observed, there's been much soul-searching over at Fox News — "and I am confident that they eventually will find one." But Fox News wasn't at fault for the election, it was… whatshisface. (You know the one. Mop Squeegee.)
You see, Fox News boss Ailes wanted someone else for the presidential run: David Petraeus. They had a plan and everything. Rupert Murdoch would bankroll it, Ailes would manage it, and Fox News would sell it to their audience. "Now," Colbert continued, "if you think about it, a news network choosing a candidate sounds like a conflict of interest. So don't think about it. Because it's not really about conflict of interest. Ailes said he did it because the Republican field needed to be shaken up."
"He was really just worried about casting his reality show," Colbert noted. "As a TV producer, Ailes was trying to avoid a repeat of 2008." They had to make "cranky, old" John McCain look like a star! "They couldn't save The John McCain Show even by making his running mate Honey Boo Boo."
But none of this means that Ailes shouldn't give it another shot in 2016. After all, MSNBC's already gone ahead and picked their guy Hillary. Let's have A&E and the Food Network give it a shot, too.
We should remember though that Ailes said his presidential proposal was really "more of a joke."
"Which, you know, makes me think," Colbert said, "why can't a comedy network put up a candidate for president?"
Hmm.
Watch below, via Comedy Central:
Have a tip we should know? tips@mediaite.com