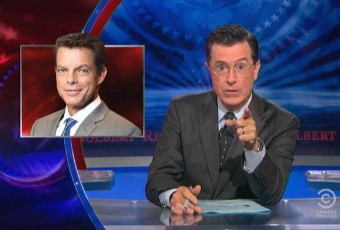 During Monday evening's edition of Comedy Central's Colbert Report, host Stephen Colbert paid tribute to his favorite Fox News anchor, Shepard Smith, likening him to "a combination of a Edward R. Murrow, Walter Cronkite, and Gary Busey."
"Nation, as you know, I am a long-time fan of Fox News," the host began. "It's my one-stop shop for news, opinions, and ads for walk-in bathtubs. […] Some criticize Fox News as a stable of old white angry men. That's ridiculous. Michelle Malkin is a young, Asian angry woman."
"But even amongst Fox's exotic Noah's Ark of white people, one beautiful unicorn stands out," Colbert continued. "Anchor and Mantis-American Shepard Smith. He's no cookie-cutter newsman. He's got his own style. For example, watch how Bret Baier reported on a February campaign stop by Mitt Romney." The comedian then played a clip of Baier reporting with characteristic conciseness.
In contrast, Colbert showed an edited clip of Smith "cut through those same facts to find the real angle." The clip shows Smith talking with Fox's Carl Cameron, who was in Ohio with Romney talking to a crowd behind him. Smith interrupted Cameron's report to say, "I'm sorry, Carl, I'm looking at [Romney] over your right shoulder there. Do you think he's aware he's wearing mom jeans? He's wearing mom jeans, Carl. It's 2012."
"Shep was the only one on Dungaree-Gate," Colbert said. "It was the biggest scoop since David Brinkley told the story of J. Edgar Hoover wearing mom everything."
– RELATED: Shep Smith Gets Bored With Story, Spends Rest Of Segment Randomly Talking About True Blood
Colbert went on to praise Smith for having admirers even among the "liberal shills at MSNBC":
ED SCHULTZ: How about Shepard Smith? I'll tell you what. He's bucking the Fox News Republican agenda by telling the truth about what's happening.

JOE SCARBOROUGH: Shep's a great guy. He's as good as it gets. He's great. He's good at what he is.

RACHEL MADDOW: Shep Smith, if you ever run for anything I will quit what I am doing to go work for you.
"I second that," Colbert added. "I would absolutely support Shep Smith running for office if it meant Rachel Maddow would quit her job."
Colbert then played a hilarious edited clip of various Smith reports, from reporting on "goats on a roof," to saying goofy things on-air like "Kitty-cat meows thousand dollars… Snooki's pregnant."
"Wow, he's like a combination of a Edward R. Murrow, Walter Cronkite, and Gary Busey," Colbert jokingly praised. "It's like Fox is a band and he's the trumpet player who got bored and decided to play out-of-rhythm and accidentally invented jazz. Just listen to this cat riff on the Lance Armstrong doping scandal," which was followed up with the now-famous clip of Smith promoting his love of HBO's True Blood to three befuddled guests.
"Keep up the good work, Shep. You are worth every penny they're paying you," Colbert concluded. "And I hope it's at least 'kitty-cat meow thousand dollars.'"
Check out the segment below, via Comedy Central:
>> Follow Andrew Kirell (@AndrewKirell) on Twitter
Have a tip we should know? tips@mediaite.com