Colbert Praises Romney As 'Hella Chill' For Not Narcing Out Pothead On His Beach Property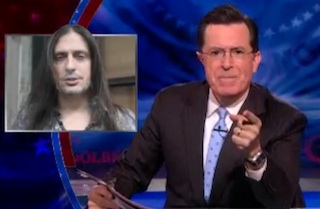 On the Thursday night edition of the Colbert Report, Stephen Colbert took the New York Times to task for their front page article in the Home and Garden section, "The Candidate Next Door," where reporter Michael Barbaro interviewed several of Romney's neighbors.
"It's not news, no," said Colbert. "What's news is what the Times thinks is news, quote 'a young man in town recalled that Mr. Romney confronted him as he smoked marijuana and drank on the beach last summer demanding that he stop.' They're trying to make Mitt Romney seem like officer buzzkill!"
RELATED: Revolt: Liberal Columnist Battles NY Times Reporter Over 'Thin, Silly' Piece On Romney's House
"Oh, mean old Mr. Romney on the corner won't let you smoke your doobies," Colbert added. "That guy should be grateful. A Mormon Republican running for president, sees you smoking weed and doesn't narc you out to the cops? Who are guarding him? I would say that makes Mitt Romney hella chill! I don't know why hasn't he been endorsed by High Times!"
Colbert went on to point out how weird it was that random sections of the Times were being used to criticize Romney.
"The only thing this article proves is that every section of the New York Times is out to get Mitt Romney. I mean just look at today's Style section. putting together the perfect look that screams jerk. Or just look at Dining In, Romney Puts Cilantro On His Guacamole, What An A**hole!"
Watch Colbert praise Romney's tolerance for potheads below via Comedy Central:
Have a tip we should know? tips@mediaite.com