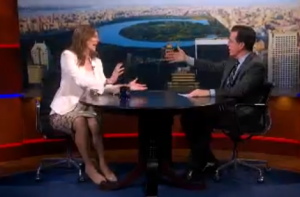 On Tuesday night, Zero Dark Thirty director Kathryn Bigelow paid a visit to Stephen Colbert — who pressed the director on the controversy surrounding the film's torture scenes, as well as the Senate investigation she's facing. Going forward, Bigelow said, she doesn't know if she's "capable" of playing it safe.
Colbert noted the portions of the movie that show "in wrenching detail the enhanced interrogation techniques commonly known as torture." Bigelow replied that torture is "reprehensible" and will likely be controversial for a long time. The movie, she said, is "kind of the first draft of history, or maybe the first rough cut of history."
"Americans don't read books," Colbert said. "And this depiction of the torture, the investigation, the catching of bin Laden, is going to be our record, just as surely as Jim Caviezel died for our sins."
Bigelow went on to defend the movie, saying it's accurate in the way a movie can be, and that it's 10 years compressed into a few hours. Specifically, Colbert pointed to the film's protagonist (played by Jessica Chastain) who puts together information based on watching interrogations. "Was that given to you as accurate information?" he asked. "Is that an accurate depiction?"
"I have to say, it's part of the history, part of the story," she replied. "Could you have found the house in Abbottabad, Pakistan, without the detainee program? I don't know. I don't know if we'll ever know."
Following up, he asked whether Bigelow thought the information she received — which she said was from first-hand accounts — was accurate or given to her to make torture techniques "seem worthwhile."
Bigelow quipped about Washington "spin," leading Colbert again to ask whether she thought the information was true or whether she was "duped."
"It's a fair assessment of the events of those times," she replied, adding that she welcomes any new information that may come out.
Take a look, via Comedy Central:
Have a tip we should know? tips@mediaite.com