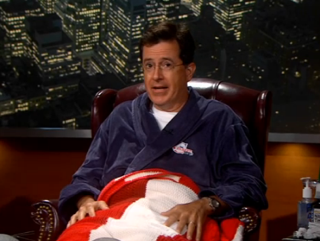 Update: The Wall Street Journal is reporting that Colbert has suspended his show temporarily due to an emergency in his family.
Update 2: The Huffington Post is reporting Colbert's mother is seriously ill.
—
If you just flipped over to Comedy Central to catch Stephen Colbert after a new episode of the Daily Show, you may have been surprised to catch Colbert talking about Herman Cain. Yes, there is a rerun of the show tonight, and it appears to be a new development, as those who had tickets to tonight's taping received word that, due to "unforeseen reasons," the show will be off for at least the week.
The website Third Beat notes that those in the audience on Twitter tweeted out the email they received confirming that there would be no taping today. "Due to unforseen circumstances, we have canceled our taping for the date of your ticket reservation, February 15, 2012," reads the email. ColbertNation.com has a repeat scheduled for tomorrow, as well.
Third Beat posits the following theory:
A last-minute cancellation is highly unusual for Comedy Central's fake news shows. The Daily Show has suspended production last-minute due to personal reasons twice during Jon Stewart's reign: once when his second child was born, and once when a staff member passed away suddenly. If this week's reasons are of a similar nature, it would be a first for the Colbert Report.
Comedy Central has not commented on why the show is repeating for the rest of the week.
Have a tip we should know? tips@mediaite.com