Colbert Takes On Interdimensional Blacks, Gay Strokes And Sick Monkeys In The 'Threatdown'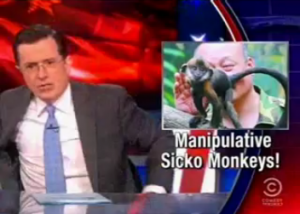 On Thursday night,Stephen Colbert had a long, comprehensive laundry list of threats to tackle during his trademark "Threatdown" segment, which he deftly took to task with gusto.
Colbert began by reporting on a new study that showed the New York Police Department performed more frisks of black men in 2011 than the total number of young black men living in the city.
"Clearly, there is a rift in the race-time continuum. They're coming over from other dimensions to be black at us," Colbert surmised. "These minorities are traveling here via some kind of black hole. I'm sorry, ex– excuse me, I'm sorry, African-American hole. Now folks, I want to make it clear, I have nothing against black people from this dimension. Those are the good ones. But black people from other worlds, who knows if they are friendly? In those other dimensions for all I know my evil twin is a horrible racist– horrible racist. and those black interdimensional interlopers might be here for revenge. NYPD, I beg you to stop and frisk all of them."
Colbert also showcased Welshman Chris Birch, who somersaulted down a hill, had a stroke and "became gay." "Folks, this story confirms what I have always believe," said Colbert. "That strokes are a choice."
Finally, Colbert turned to a Chinese zookeeper who saved a monkey's life by licking its butt.
"According to the report, the zookeeper had no option but to resort to this treatment because the monkey was too small for medicine. And apparently too small for a sponge, a moist towel, a q-tip, a damp finger, a wet leaf, anything," Colbert noted. "It had to be man tongue. Nation, a zoo is nothing but monkey prison. Which means this monkey has made this zookeeper his bitch."
Watch Colbert's "threatdown" below via Comedy Central:

Have a tip we should know? tips@mediaite.com