Colbert Takes on Socialist 'Bogeyman' Bernie Sanders: Are You Trying to 'Frighten' People?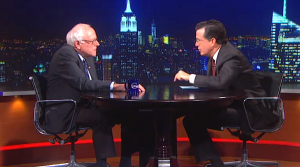 As Stephen Colbert pointed out to his guest, Sen. Bernie Sanders (I-VT) last night, he only has about four weeks left if he wants to give his prospective presidential campaign the "Colbert bump." And while the senator did not choose to make any big announcements on The Colbert Report, he did reiterate that he is still "thinking about running for president" in 2016.
Colbert began the interview by highlighting Sanders' role as the only self-described socialist in the Senate. "That's the bogeyman of Washington," the host said, "Do you frighten people when you walk around the Capitol? Are they afraid you're going to take away their tractor and give it to the whole village?"
"Hopefully, we frighten the billionaire class," Sanders replied. "Hopefully, we frighten the insurance companies, because we are the only major country on Earth that doesn't have a health care system guaranteeing health care to all people."
Colbert would only agree that America is the "only major country on Earth," period.
In the second half of the interview, Colbert brought up Sanders' presidential ambitions, an idea that seemed to delight the audience in the studio. He said it would all depend on whether he feels the country is ready to "take on the billionaire class" in a serious way.
Finally, when Sanders held up Denmark's healthcare system as a model for the United States, Colbert pointed out that he has more Twitter followers than Denmark has citizens. He then sent out the tweet below and made a deal with the senator: If it gets more retweets than Denmark has people, Sanders will have to move there.
Suck it, Denmark! RT! @SenSanders

— Stephen Colbert (@StephenAtHome) November 18, 2014
Watch the full interview below, in two parts, via Comedy Central:
[Photo via screengrab]
— —
>> Follow Matt Wilstein (@TheMattWilstein) on Twitter
Have a tip we should know? tips@mediaite.com