Colbert: 'Thank God' I Don't Have Time to Cover 'Depressing' MH17, Gaza Stories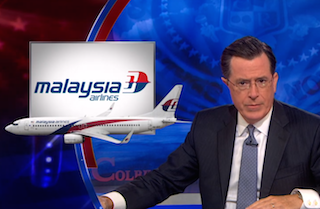 With the Malaysia Airlines Flight 17 crash and Israel's launch of a ground offensive into Gaza, Thursday brought a pair of stories that seemed nearly impossible to cover in a comedy setting. Jon Stewart decided to bypass them completely, instead focusing his Daily Show opening on Sarah Palin's calls to impeach President Barack Obama. But Stephen Colbert went a different way.
"Before we get started, I just want to address a horrible tragedy in the Ukraine," Colbert said, before sincerely offering his "thoughts and prayers" to everyone affected by the crash. He then pivoted to the Middle East, working in one joke about how Israel and Gaza could only agree on the "fire" part of a proposed "cease fire."
Since Colbert tapes his show earlier in the evening than it actually airs, he said he did not have all of the information on these stories yet, but promised "complete coverage" of both stories on the next night's show.
"And I'm being told we do not have a show on Friday nights," he said. "Oh, thank God. Those are really depressing stories."
As they've done over and over again in the past, Stewart and Colbert will likely find a way to create humor out of these "depressing" news stories, likely by focusing on the media reaction to them. But for at least one night, they seem to have decided it was too soon.
Watch video below, via Comedy Central:
[Photo via screengrab]
— —
>> Follow Matt Wilstein (@TheMattWilstein) on Twitter
Have a tip we should know? tips@mediaite.com