Colbert To David Gregory: This Election Comes Down To 'Who's Been Crueler To A Dog'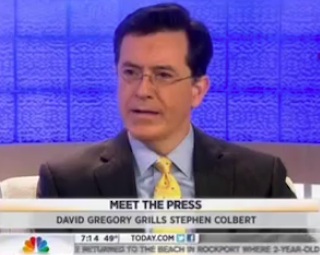 Stephen Colbert stopped by The Today Show Friday morning to promote his new book I Am A Pole (And So Can You!) and give David Gregory his take on the 2012 election.
"This vote is up for grabs. Do you think that young people approach this election differently with a different attitude, less inspiration than they did four years ago?" Gregory asked the late-night comedian.
"I don't know," Colbert responded. "They were pretty excited about Barack Obama four years ago. He was a fresh-faced kid who could relate to the youth. But now, he's all 'grandpa gray hair' who didn't close Gitmo so I don't know — I don't know if they're as excited as they once were. Mitt Romney, when it comes to kids, Mitt Romney's got the electricity. You know — it's a static electricity, but it's still like an electricity, technically."
RELATED: Stephen Colbert Tears Into Mitt Romney's Factory-Closing Joke
Colbert acknowledged to Gregory that despite the fact that he had a show that joked about politics, he still didn't quite get it. "I make jokes about politics, but I don't really understand it," he admitted.
"What decides this election?" Gregory asked. "Not on all the issues but, as you look at these two candidates, their personalities, their qualities, what does this come down to?
"It comes down who has been crueler to a dog," Colbert deadpanned, as Today Show staff cracked up off camera. "Apparently it comes down to whether or not it's crueler for an adult man to strap a dog to his car and then drive for 12 hours, or for a 10-year-old boy to eat dog given to him by his stepfather. As far as I can tell that's the biggest differentiation."
"This is the Animal Planet election?" Gregory cracked.
"Absolutely," Colbert concluded.
Watch Gregory's interview with Colbert below via NBC:

Have a tip we should know? tips@mediaite.com