Colbert Tried to Sign Up for Obamacare and Got the 'Train Wreck' He So Desperately Hoped For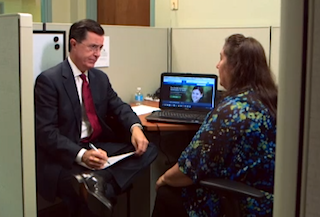 Halloween came early for Stephen Colbert this week, as a he did what so many other reporters who don't actually need health insurance tried to do last night in a segment titled "I Tried To Sign Up For Obamacare: Healthcare House of Horrors." But instead of just going online to prove how slow the website is, Colbert went to meet with a certified health care navigator at his local food bank.
First, Colbert sat down with food bank director Carlos Rodriquez to find out how they got involved in the effort to help people sign up for health insurance under the new law. The host wanted to know what kind of "invasive" questions he could expect as part of the application process, particularly surrounding the "impressive" size of his prostate.
But things really got interesting when Colbert met with his own personal navigator to go over the necessary forms. He was very concerned that Debbie Palacios did not plan to "scrub up" before navigating him and put on his own pair of surgical gloves just to be safe.
After a long list of inappropriate answers to some very standard questions, it was time for Debbie to submit Colbert's application. Unfortunately needless to say, when she tried to log Colbert onto the website, they ended up on a webpage that "could not be found."
"Woo-hoo! Obamacare's a train wreck!" Colbert exclaimed in delight. "I'm free! No health care for me or my family!"
Watch video in two parts below, via Comedy Central:
[photo via screengrab]
— —
>> Follow Matt Wilstein (@TheMattWilstein) on Twitter
Have a tip we should know? tips@mediaite.com