Colbert Twitter's Asian Joke Wasn't Racist; It Just Wasn't Funny
Young: Colbert Twitter's Asian Joke Wasn't Racist; It Just Wasn't Funny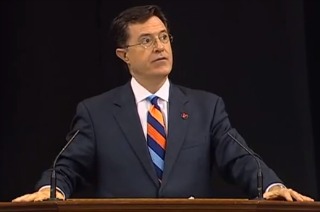 Calm down, Nation. #CancelColbert is trending because a joke wasn't executed properly—it's about poor technique rather than poor taste.
The Colbert Report's tweet involving "The Ching-Chong Ding-Dong Foundation for Sensitivity to Orientals or Whatever" made the cyber rounds, as reported on Mediaite, and stirred the melting pot in a dramatic way. It was a contextual joke that erred on trusting the Twitterverse to decipher its tonality—a little like trusting the truthiness from deep inside your gut.
More bald-faced than bald eagle, Stephen Colbert's clunky one-liner parodied Dan Snyder's open letter introducing the Washington Redskins Original Americans Foundation—a softball story that lesser satirists like Keith Olbermann, Harry Reid, and this columnist already took clean swings at.
Colbert (or his show staff, more accurately) —or his network—used far too many characters (and changed one too many races) to satirize a story America already found tiring in the first, second, and third place. Wordy and outdated do not a relatable satire-tweet make. I believe Mark Twain said that.
Colbert certainly wasn't trending toward cancellation for this Feb 27th quote regarding Black History Month: "It is such a rich, multifaceted culture for white people to embrace and make less black." Of course not. It was funny. Or how about this March 1st tweet? What about Stephen's personal Twitter account?
The Snyder parody fed the social media storm because it just wasn't all that clever on its own—and, so, the bad yuck stops here, at the foot of the host's American flag. Colbert's mysteriously owned Twitter handle should apologize for driving a bad joke to the land of 140 characters when it should have simply stayed with its most famous character, Stephen Colbert.
The comedy icon is sure to poke fun at the situation Monday– or troll his viewership by ignoring it. But, chances are, he'll have some proper time to craft a defense that will likely blame liberals, and/or Ham Rove for trying to bring a resolute Colbert to his patriotic knees. Or maybe this is Jon Stewart's final piece of Emmy revenge.
Regardless, I think Jerry Seinfeld already covered it best. When asked in Seinfeld's "The Yada Yada" episode if, as a Jew, he was offended by an anti-Semitic joke, Jerry replied: "No, it offends me as a comedian."
Treat Colbert's persona like Seinfeld — don't treat him like Kramer.
Although… even Kramer gets a free pass from racial satirists who value comedy over identity. As Dave Chappelle said, he was just "having a bad set, hang in there Kramer!"
— —
>> Clark Young is, above all things, a Mainer and Red Sox fan. Follow him on Twitter here.
Have a tip we should know? tips@mediaite.com