Stephen Colbert Reminds Keith Olbermann That He 'Lost To Bill O'Reilly' During Interview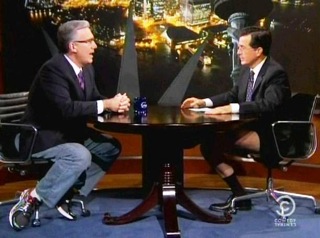 "I missed it so much," newly-crowned Current TV executive Keith Olbermann told a pants-less Stephen Colbert in his return to television tonight in anticipation of the new Countdown. Colbert spent the interview relentlessly mocking Olbermann for his follies at MSNBC, calling him "insane," and insisting he admit that he "lost to Bill O'Reilly." Olbermann, of course, did nothing of the sort.
After reminding Olbermann of what cameras were and which ones to look into, Colbert began his interview asking what Olbermann had been up to ("being an executive," he replied gleefully) and how gut-wrenching the past few months had been. "Has it been painful to live with the knowledge that Bill O'Reilly won?" Colbert asked, to which Olbermann refused to answer. Reminding him that claiming to be the "comeback kid… implies that you lost," Colbert insisted until asking directly, "are you man enough to admit you lost?" "No, of course not," Olbermann replied.
The combative tone of the interview– from Colbert, with Olbermann taking the jabs in stride– continued as Colbert asked whether he lamented not being around for the death of Osama bin Laden or, more importantly, "Weinergate." "There's always another Anthony Weiner down the line," Olbermann noted, seeming happiest when asked if he had editorial control: "Yes, I do," he replied, jokingly adding a bit of maniacal laughter to his answer. To round out the conversation, Colbert didn't let the interview end without reminding Olbermann that he was "generally regarded as insane" and asking why he was so hard to work with. Olbermann replied, with a smile, that he had been rehired by three of his nine employers, so he couldn't possibly be so difficult. "So you're one for three," Colbert deadpanned.
The interview via Comedy Central below:

Have a tip we should know? tips@mediaite.com