Colbert's Late Show Debut Disappoints with Average Guests, Partisan Monologue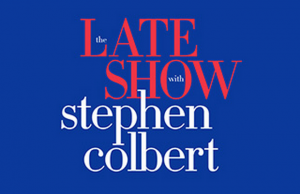 All the hype is over. All the fanboys in the media gone. The first Late Show with Stephen Colbert is in the books. And the final grade is?
Incomplete.
For a show that had nine months to prepare for one big night, there was something wholly unsatisfying about Colbert's debut from the Ed Sullivan theatre in New York last night. On the booking front, George Clooney is just OK, because when was the last time he did a movie that made him truly relevant, truly the biggest name Hollywood? Gravity (2013), maybe? And on the political front, the show should have found a way to book Donald Trump, but we got sleepy Jeb Bush instead.
Why Jeb? Because he was booked over four weeks ago, and the thought process at the time by Team Colbert was Bush was still a big brand name (the kind that attracts curious viewers, anyway) and therefore the right guy to help kick off the program with all eyes watching. But perhaps it would have been more wise to wait on making (and announcing) that booking while pursuing the big ratings fish: Trump. Of course, it didn't help that Colbert openly dared Trump to come on the show, because that amounted to un-vite, a non-starter…and the billionaire doesn't seem like the type to take that kind of bait (despite doing interviews with basically anyone and everyone).
As for the monologue, there was no absence of Trump there (and throughout the program), and rightly so. The GOP frontrunner has been ubiquitous in the news since announcing in June. The gaffes, flip-flops and confrontations with interviewers and particularly debate monitors have been too numerous to count, making him a late-night host's dream. But with every Trump story, there was invariably a Hillary update with the latest on her email scandal right behind it. And in the process, Mrs. Clinton has also been a source of unintentional humor when it comes to the craptastic way she's handled questions around said scandal thus far.
So you watched at home and waited for Colbert to show he really wasn't the partisan character he was on Comedy Central. First show, big audience…a second chance to make a first impression that he's willing to stick it to both sides to avoid an optic that helped define (and hurt) Letterman in the twilight of his tenure. But as predictable as a Jon Stewart cameo, Hillary was ignored…prompting this Tweet and others like it from radio talk-show host Laura Ingraham:
Glad Colbert has shown his political leanings early. Where are the Hillary email jokes, Stevie?

— Laura Ingraham (@IngrahamAngle) September 9, 2015
And therein lies the rub: Colbert's entire television career has been as a political satirist. He knows nothing else, which is why it's no surprise four more presidential candidates will be joining The Late Show in the coming days (Joe Biden, Bernie Sanders, Ted Cruz, Rand Paul). Outside of Biden and a possible announcement, is a political late-night program the right course? Because outside of a very select few, most politicans are packaged, tedious, boring to the masses.
As for Colbert's standing in the late night race, I'm sticking to my original bet from back in April of 2014 (when it first announced he would replace Letterman) on where he'll ultimately end up when everything settles in and the curiosity factor fades: Third place, just like his predecessor in the final years of his career. No magical analysis or detail really needed here: Kimmel and Fallon are simply more talented, more experienced (in playing themselves), possess more range, connect with younger viewers better and are decidedly more apolitical than the 51-year-old Colbert, who was signed by CBS more because of cost-effectiveness than anything else after Jon Stewart was deemed too expensive to sign.
Maybe things can change and improve from a rookie debut (although doing this every night is far different than having almost a year to prepare). But it's already clear that Stephen Colbert the person isn't very different from Stephen Colbert the character, save for the sarcasm and edginess missing. And as a result, the new late-night host for the Tiffany Network better get used to seeing not gold, not silver, but plenty of bronze when the ratings books come out after the dust settles a few months from now.
— —
>>Follow Joe Concha on Twitter @JoeConchaTV
Have a tip we should know? tips@mediaite.com