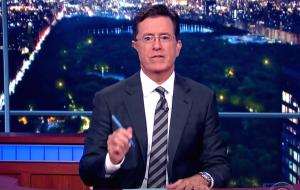 They came. They saw. And many didn't come back.
We're talking about CBS's Late Show with Stephen Colbert, which came down from its debut audience of 6.6 million as is the typically the case whenever a big new program launches. But it must be disturbing to Les Moonves and CBS to see the numbers drop so precipitously this early in the honeymoon in Night 2. Overall, Colbert shed three million viewers, or 44 percent. More importantly–just two programs in–it's already losing to NBC's Tonight Show with Jimmy Fallon, and badly where it counts.
Overall for Wednesday (according to Nielsen), Fallon decimated Colbert by 50 percent in the key 18-49 demo, the only age group advertisers care about. In overall numbers, Fallon bested Colbert by 400,000 viewers. Night 3 (Thursday) saw little improvement for the 51-year-old CBS host, with the Late Show improving by only three percent despite a heavily promoted interview with Vice President Joe Biden, whom some speculated would announce his candidacy on the program (didn't happen).
Know this: Whenever a new program loses this many viewers this quickly, it's extremely difficult to get them back. Colbert's debut–as noted here–was disappointing and uneven. To be candid, the band leader is overbearing and downright annoying. The audience chanting "Stephen! Stephen!" is contrived, distracting and brings back memories of 1990's Arsenio in the process. Note: Colbert's one-sided political offering is fine for cable and niche audiences. For network TV, however, his range is limited (compared to Kimmel and especially Fallon) and the jokes that do land happens far too inconsistently. Stephen appears to be trying too hard as well when not in interview mode (his conversation with Biden was excellent: genuine and poignant) which is understandable given the nine months of prep and the pressure from the hype.
Give him time, of course. It is only the first week. But if Stephen Colbert is already bleeding these kind of numbers this quickly, you can bet there are plenty of executives over at the Tiffany Network who are already getting a bit nervous.
— —
Follow Joe Concha on Twitter @JoeConchaTV
Have a tip we should know? [email protected]