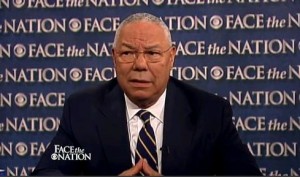 While the main focus on the Sunday news shows today was Hurricane Irene and the government response to the storm, on Face the Nation today, Colin Powell weighed in on the "explosive" new memoir being released by former Vice President Dick Cheney, and responded to many of the charges the former vice president leveled against him.
Bob Schieffer asked Powell if there was anything in the former VP's book that would cause people's heads to explode in Washington. Powell did not think so, and immediately proceeded to criticize Cheney for using the book as a platform to go after him and other members of the Bush administration.
Mr. Cheney has had a long and distinguished career, and I hope that's what he'll focus on, not these cheap shots that he's taking at me and other members of the administration who served to the best of our ability for President Bush.
Powell disputed Cheney's assertion that he was in some way responsible for Powell's departure from the administration in 2004, claiming that he and President Bush had always planned for Powell to depart towards the end of the presidential term.
Among other things, Cheney alleged that Powell did not share his opinions on many issues with the president, he did not support the president's decisions, and that Powell was somehow involved in the Valerie Plame affair. Powell disputed all of these charges and continued to insist there is nothing particularly shocking in what Cheney had to say.
Mr. Cheney is free to say what he wishes, but so far I haven't seen anything in it that is 'explosive,' as he claims it is, and I don't see any heads lying on the street.
Watch the video below, courtesy of CBS:
Have a tip we should know? tips@mediaite.com
Josh Feldman - Senior Editor